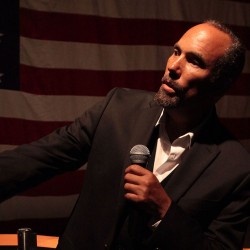 When: Friday, April 6, 2018
7:00 PM - 8:00 PM Central
Where: Wirtz Center for the Performing Arts, Josephine Theater, 1949 Campus Drive; 10-30 Arts Circle Drive, Evanston, IL 60208 map it
Audience: Faculty/Staff - Student - Public - Post Docs/Docs - Graduate Students
Cost: Free
Contact: Theresa Bratanch (847) 467-5197

Group: Bursar's Office Takeover 50th Commemoration
Co-Sponsor: Department of Political Science
Diversity and Inclusion

Category: Multicultural & Diversity
Description:
FREDERICK DOUGLASS NOW,
written and performed by Roger Guenveur Smith
Two hundred years ago Frederick Douglass was born into slavery. Likely the son of his slavemaster, Douglass liberated himself at twenty years old and began a new life using his exceptional skills as an orator, writer, journalist, and politician to fight for the abolition of slavery, women's suffrage, and an end to racial discrimination. He died arguably the most recognized abolitionist in the world. In this poetic remix, acclaimed artist Roger Guenveur Smith lifts up the legacy of this great man, weaving his story through a modern constellation of American power, politics, and promise.
 Lead Sponsor: Political Science
 Hosted by: Performance Studies and Theatre
 Cosponsored by: African American Studies, Black Arts Initiative, History and the Office of Institutional Diversity and Inclusion
  RSVP: bit.ly/FDnow      
  Seating begins at 6:30 and the preformance begins promptly at 7:00pm. In fairness to the performer and fellow attendees, please arrive prior to 7:00pm. LATE ENTRY WILL NOT BE PERMITTED