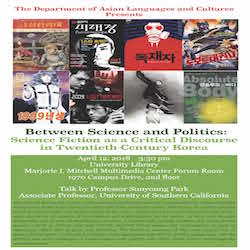 When: Thursday, April 12, 2018
3:30 PM - 5:00 PM Central
Where: University Library, Marjorie Mitchell Forum Room, 2nd Floor, 1970 Campus Drive, Evanston, IL 60208 map it
Audience: Faculty/Staff - Student - Public - Post Docs/Docs - Graduate Students
Contact: Department of Asian Languages and Cultures (847) 491-5288

Group: Department of Asian Languages and Cultures
Category: Academic
Description:
Talk by Professor Sunyoung Park
Associate Professor, University of Southern California
**If you are not a member of the Northwestern community with a Wildcard - please be sure to bring a photo ID in order to enter the Library**
This talk will discuss the ways in which select science fictional texts have represented the techno-scientific enterprise in South Korea during the latter half of the twentieth century. The heyday of a techno-utopian brand of science fiction was largely limited to the 1960s, which was a time when Koreans looked keenly upon science for its promise of development and modernization for the nation. As later years brought dictatorship and forced industrialization, however, a marked shift towards dystopia and social protest became evident in cultural texts that critically depicted techno-science and modernization as tools of oppression rather than progress and liberation. The historical existence of this more critical vein of science fiction attests to the genre's hitherto underappreciated potential for fruitful engagement with the political and social challenges of modernization both globally and within South Korea's technologically saturated society.