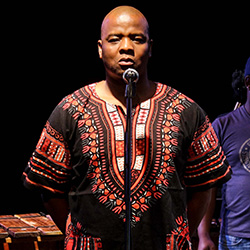 When: Thursday, April 12, 2018
12:00 PM - 1:30 PM
Where: University Hall, Room 201 (Hagstrum Room), 1897 Sheridan Road, Evanston, IL 60208 map it
Audience: Faculty/Staff - Student - Public - Post Docs/Docs - Graduate Students
Cost: Free
Contact: Susanna Sacks

Group: Alice Kaplan Institute for the Humanities
Co-Sponsor(s):
Program of African Studies
English Department

Category: Lectures & Meetings
Description:
The many parts of ourselves we embed in our poetry:
Towards an open-ended and subtle understanding of indigeneity in contemporary South African poetry.
Talk by Katleho Kano Shoro
As South Africa attempts to revalue, decolonise and Africanise its education system, public institutions, public symbols and collective consciousness, African Intellectuals and Indigenous Knowledge Systems (IKS) are increasingly being called upon and interrogated. Within this moment, the value and work of poetry, together with its ability to resonate is also being vigorously assessed. This talk explores the relationship between poetry and indigeneity in two different ways. Firstly, using poetry from a handful of contemporary young, black South African poets and anecdotes from within the poetry circle, we explore the vastness of what could be deemed indigenous — in language, symbol, and experience. At times the "indigenous" is so subtle that if one is not engaged enough or does not possess the tools to see and hear it, it could be easily missed. Secondly, the talk briefly touches on the research and necessarily open-ended understandings of IKS in a project called the South African Poetry Project (ZAPP). This is a project where research is centered on poetry lessons in English classes of a few high schools. The end vision is to inject or at least encourage IKS within poetry in English classrooms — an attempt at contributing to the revaluing, decolonising and Africanising of education.
This talk is part of a spring residency of the Lingua Franca Spoken Word Movement, a South African company that fuses spoken word poetry and music with a commitment to making socially ostracized communities visible through workshops, performances, and platforms. Lingua Franca has disturbed the poetry community nationally by creating provocative and groundbreaking productions, while organizing the annual Naked Word Festival as an affirmation, declaration, and exploration of the future of a distinctly South African poetics.
During their two-week residency at Northwestern and in Chicago, Lingua Franca will give talks on indigeneity, poetry and social challenges, and performance in South Africa. In addition to this lunch talk, their other events include a lunchtime talk on indigeneity and language on Wednesday, April 11, a keynote talk and performance on Friday, April 13, and a performance at the Poetry Foundation on Wednesday, April 18. Lingua Franca will also be performing at venues around Chicago on Friday and Saturday, April 20-21.
Co-sponsored by the Program of African Studies, the Buffett Institute for Global Studies, the Kaplan Institute for the Humanities, the Department of English, the Global Indigeneity Working Group, The Center for the Writing Arts, The Graduate School, and the Poetry Foundation.