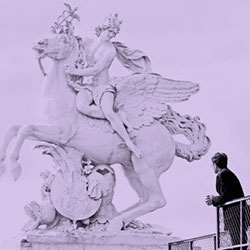 When: Friday, May 11, 2018
8:00 AM - 5:00 PM
Where: Robert H Lurie Medical Research Center, Baldwin Auditorium, 303 E. Superior, Chicago, IL 60611 map it
Audience: Faculty/Staff - Student - Public - Post Docs/Docs - Graduate Students
Cost: $175 regular/$75 students
Contact: Bryan Morrison 312.503.1927

Group: Center for Bioethics and Medical Humanities Events
Category: Lectures & Meetings
Description:

In addition to readings by Mark Doty and other poets and the awarding of the 2018 international Hippocrates Prize for Poetry and Medicine, this conference will feature the following presentations:
Witnessing Illness
  • Metastatic Metaphors: Poetry, Cancer Imagery, and the Imagined Self – Lois Leveen, PhD
  • The Poet as Witness: Poetry as Mythic Construction – Sheri Reda
  • Writing the Memoir for Cancer Patients or Writing to Know Oneself Better – Wendy French, MA
Physiological and Poetic Rhythms
• The Use of Poetry to Engage Echoic Memory with People Living with Alzheimer's Disease and Related Dementia – Gary Glazner, BA
• Murmur, Beat, Silence: Toward a Cardiography of Poems – Catherine Belling, PhD
• The Physiology of Poetry – Eric Elshtain, BFA, MFA, PhD
Witnessing Differences
• Agha Shahid Ali and the Poetics of Bio-political Witnessing – Bassam F. Sidiki, MA
• Disarticulation and Disability in Bhanu Kapil's "Humanimal" – Michelle N. Huang, PhD
• Phenomenological Poetry: Navigating the Frontier of Performance, Lived Experience and Therapy in Jess Thom's Production of Beckett's "Not I" – Emily Chester, PhD
Lyric Disruptions
  • Poetic Meaning at the Edges of Medicine – Rachel Jamison Webster, MFA
  • The Personal Lyric and Medical Students: How Writing Poetry Disrupts the Hidden Curriculum – Susan J. Sample, PhD, MFA
  • "Lyric Time" in Nursing Education – Joy Jacobson, MFA
Rafael Campo and Mark Doty in Conversation
The day will also include breakfast, a mid morning break, and a lunchtime poster session.
Additional conference events include a reading on Thursday, May 10 and an optional event at the Museum of Contemporary Art on Friday, May 11 from 6:30-7pm.
For further details and a full program, please see the "More Info" link above.