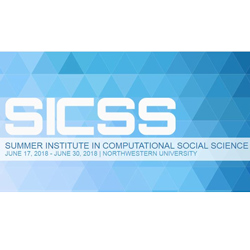 When: Sunday, June 17, 2018
All day
Where: LOCATION TBA
Audience: Faculty/Staff - Post Docs/Docs - Graduate Students
Cost: No cost but attendance it limited to 20 participants. Applications are due by April 21, 2018.
Contact: Kat Albrecht

Group: Northwestern Institute on Complex Systems (NICO)
Category: Academic
Description:
From Sunday, June 17 to Friday, June 29, 2018, the Summer Institute in Computational Social Science is sponsoring a Chicago partner site hosted at Northwestern University. The purpose of the Summer Institute is to bring together graduate students and early career researchers in both social science (broadly conceived) and data science (broadly conceived). Content will include live-streamed lectures from the main site at Duke University as well as guest speakers who will present on cutting-edge computational research and methods. Topics covered include text analysis, digital data collection, experimental design, non-probability sampling, agent based modeling, and ethics.
Participation is restricted to graduate students, postdoctoral researchers, and untenured faculty within 7 years of their Ph.D. Due to limited space, up to twenty participants will be invited. To facilitate the planning process, you must submit your application materials by April 21st, 2018.
Please visit the SICSS Chicago web site for more info.