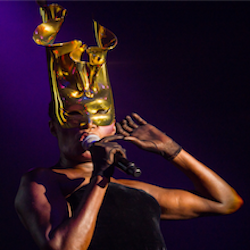 When: Tuesday, May 29, 2018
3:30 PM - 5:00 PM Central
Where: Kresge Hall, Trienen Forum, Kresge 1515, 1880 Campus Drive, Evanston, IL 60208 map it
Audience: Faculty/Staff - Student - Public - Post Docs/Docs - Graduate Students
Contact: Rossitza Guenkova-Fernandez (847) 491-3611

Group: Religious Studies Department
Category: Academic
Description:
Lecture by Dr. Judith Casselberry, Associate Professor of Africana Studies,
Bowdoin College
Response by Dr. Francesca Royster, Associate Professor of English, DePaul University

Cultural icon Grace Jones is in the fourth decade of a professional career that includes high fashion model, actress, and recording artist. Throughout, Jones has served as a symbol for unexplainable excess in the popular imagination. Descriptions of her by critics, public intellectuals, and scholars have included: "an emblem of cold steel androgyny," "a question mark followed by an exclamation point," and "sci-fi fantasy." Since the early 1990s, scholars across disciplines have analyzed her work through theories of gender, race, performance, postmodernism, post-colonialism, and transnationalism in attempts to make her legible. Primarily focused on Jones' musical work and persona, this paper pushes current scholarship by asserting her transnational Pentecostal upbringing is as significant as race, gender, and (secular) transnationalism in interpreting her contribution to popular culture. Re-reading Jones' work through the lens of Pentecostalism shows a dialogue through aesthetics. She infuses "sanctified" expressions into performance in a deliberately profane manner, simultaneously reinforcing a sanctified aesthetic and turning it against itself.
The event is organized by Religious Studies Graduate Students Association (GSA) and
made possible through the generous co-sponsorship of the Department of African American Studies, the Department of Anthropology and the Program of Gender and Sexuality Studies.