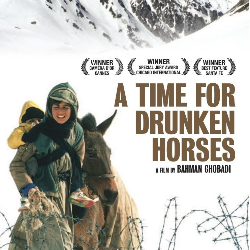 When: Wednesday, May 23, 2018
7:00 PM - 9:30 PM Central
Where: Block Museum of Art, Mary and Leigh, Block Cinema, 40 Arts Circle Drive, Evanston, IL 60208 map it
Audience: Faculty/Staff - Student - Public - Post Docs/Docs - Graduate Students
Cost: Free of charge & open to the public!
Contact: Danny Postel

Group: Middle East and North African Studies
Category: Fine Arts
Description:
Join us for this series of screenings and conversations with the critically-acclaimed Iranian-Kurdish filmmaker Bahman Ghobadi, who has been called "the poet laureate of Kurdish cinema," between Wednesday May 23 and Friday May 25.
This series is made possible by the generous gift from Northwestern alumnae Tamilla Ghodsi (WCAS '91) and Zuleika M. Ghodsi (WCAS '93) that established the Iranian-American Fund for Cultural Programming. 
Wednesday May 23
6:30 pm: Reception
7:00 pm: Screening of A Time for Drunken Horses (2000, 80 min)
Post-screening discussion with Bahman Ghobadi, led by Emrah Yıldız and Foroogh Farhang
"This is a very remarkable film: a blazingly passionate, spiritual bulletin from a contemporary front-line of almost unimaginable hardship. Bahman Ghobadi's movie is about a group of orphaned Kurdish children who live on the poverty line in a village near the Iran-Iraq border. Periodically, the children scramble aboard a truck to take them to Iraq to work in the market, or as foot- soldiers in various smuggling scams. That, or they transport heavy tyres in the snow and terrible cold — backbreaking work for which they are routinely cheated of their pay, and for which the conditions are so appalling that the mules and horses have to be fed whisky to get them to work." —The Guardian
co-sponsored by the MENA Program & Block Cinema
All screenings are free of charge and open to the public.
For the full series schedule for all three nights, visit this page: 
http://www.blockmuseum.northwestern.edu/view/cinema/BahmanGhobadi.html