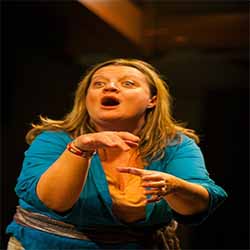 When: Wednesday, June 6, 2018
6:00 PM - 7:30 PM
Where: Kresge Hall, 2315, 1880 Campus Drive, Evanston, IL 60208 map it
Audience: Faculty/Staff - Student - Public - Post Docs/Docs - Graduate Students
Cost: FREE
Contact: Rosie Roche

Group: Arts Circle
Category: Fine Arts
Description:
Falling in love with a refugee was never part of Kim Schultz's plan, but an Iraqi man named Omar changed all that No Place Called Home is that unexpected story—a story about an American woman and an Iraqi man, a story about one refugee in 2 million, a story that isn't supposed to be a love story.

Recognizing that art has the power to evoke compassion, build understanding and initiate the human transformation necessary to motivate social action, in the fall of 2009, Intersections International led a delegation of eight American artists, including Schultz, on a three-week immersion trip to Jordan, Lebanon and Syria where they talked to hundreds of refugees. Their goal was to use the power of arts to call attention to one of the most pressing and underreported humanitarian crises of our time: the displacement of more than 4 million Iraqis as a result of our military intervention in Iraq. After returning, the artists created a series of pieces designed to humanize the crisis and give voice to the millions of refugees whose plight has yet to enter broad public consciousness. No Place Called Home is the centerpiece of that effort.

The world landscape has changed since then, but what hasn't changed is the dire situation of refugees worldwide. Syrian refugees have left their country by the millions and with the threat of ISIS, a new wave of Iraqis are forced to flee yet again. 65 million are currently displaced.

With Original Score Composed and Performed by Amikaeyla Gaston
Directed by Sarah Cameron Sunde
Commissioned and Produced in NYC by Intersections International
Cosponsored by:
The Center for Forced Migration Studies (CFMS),
The Program in Middle East and North African studies (MENA),
The Department of Radio, TV, and Film