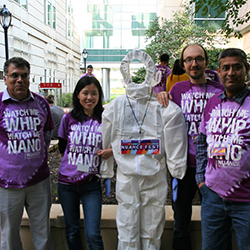 When: Tuesday, October 9, 2018
1:00 PM - 5:00 PM
Where: Cook Hall, 2220 Campus Drive, Evanston, IL 60208 map it
Audience: Faculty/Staff - Student - Post Docs/Docs - Graduate Students
Cost: FREE!
Contact: NUANCE Center

Group: NUANCE Center
Category: Social
Description:
NUANCE Center will host its annual NUANCE Fest and Open House on October 9, 2018 in coordination with National Nanotechnology Day*!
Activities include:
Research Facilities Tours
Meet the Staff
Poster Session
Image Contest Reception
Raffle for participants
Food, Fun, Prizes and more!
NUANCE founding director, Prof. Vinayak Dravid, will announce the winners of the 2018 "Art of Science" Image Contest. NUANCE image contest is an opportunity for facility users and staff to display the fascinating and beautiful images produced by the Center's instruments. Cash prizes will be awarded!
Information about the image contest can be found at: http://www.nuance.northwestern.edu/2018imagecontest.html.
* Nano Day (10-9) - This date pays homage to the nanometer scale, 10-9 meters. The United States National Nanotechnology Initiative began National Nanotechnology Day three years ago. Nano Day is an annual event featuring a series of community-led events and activities on or around October 9th to help raise awareness of nanotechnology, how it is currently used in products that enrich our daily lives, and the challenges and opportunities it holds for the future. https://nano.gov/.
As a member of NSF's National Nanotechnology Coordinated Infrastructure (NNCI), NUANCE is excited to align our annual open house activities to this National day of nanoscale science and technology recognition!