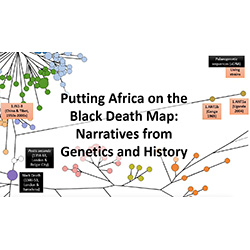 When: Wednesday, October 3, 2018
12:00 PM - 1:15 PM CT
Where: 620 Library Place, room 106, Evanston, IL 60208 Evanston map it
Audience: Faculty/Staff - Student - Public - Post Docs/Docs - Graduate Students
Contact: Program of African Studies (847) 491-7323

Group: Program of African Studies
Category: Lectures & Meetings
Description:
Join the Program of African Studies for our weekly lunch and lecture.
Putting Africa on the Black Death Map: Narratives from Genetics and History
Monica Green, History, Arizona State University
Abstract
Our understanding of the Black Death, the plague pandemic that ravaged Europe, the Middle East, and north Africa between 1346 and 1353, has been transformed in the last decade and a half because of new developments in genetics. We must now expand our understanding of both the geography and the chronology of the pandemic. This sustained chain of transmission of the organism Yersinia pestis started earlier, lasted longer, and spread more widely than historians ever imagined before. This disease of Eurasian origin clearly reached Africa, too, and may have been driving political and demographic changes in sub-Saharan Africa for centuries. This talk will summarize the latest work in the field, and sketch out future directions of research.
Bio
Monica H. Green is Professor of History at Arizona State University. She specializes in medieval European medical history and the history of global health. Among her recent works is (as editor) Pandemic Disease in the Medieval World: Rethinking the Black Death and studies of plague and other infectious diseases in Africa, the Indian Ocean world, and Eurasia. A particular feature of her work is that she has recognized the potential of the evolutionary approach of genetics to tracking pathogens across diverse landscapes, thus facilitating a unified, truly global history of disease.