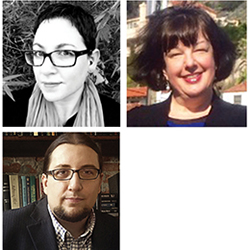 When: Thursday, November 29, 2018
5:15 PM - 7:00 PM Central
Where: University Hall, #201, 1897 Sheridan Road, Evanston, IL 60208 map it
Audience: Faculty/Staff - Student - Public - Post Docs/Docs - Graduate Students
Cost: Free and public welcome
Contact: Jill Mannor (847) 467-3970

Group: Alice Kaplan Institute for the Humanities
Category: Lectures & Meetings
Description:
A conversation with Jenny Davis (Illinois), J. Kēhaulani Kauanui (Wesleyan), and Doug Kiel (Northwestern), moderated by Bonnie Etherington (Northwestern).
Three Indigenous Studies scholars take up questions of sovereignty, in a conversation that will ask where Indigenous sovereignty and insecurity intersect. Defining Indigenous sovereignty capaciously, to include political status and governance along with scholarship and activism, the conversation will consider how sovereignty matters for Indigenous people and nations and their futures.
The symposium is co-sponsored by the Colloquium on Indigeneity and Native American Studies, the Center for Native American and Indigenous Research, and the Office of Institutional Diversity and Inclusion. This event is part of the 2018-19 SECURITY Dialogues, a year-long conversation about struggles over security from humanistic perspectives, co-presented by the Alice Kaplan Institute for the Humanities in partnership with multiple Northwestern departments and programs.
Jenny L. Davis is a citizen of the Chickasaw Nation and an Assistant Professor of Anthropology at the University of Illinois, Urbana-Champaign where she is the director of the Native American and Indigenous Languages (NAIL) Lab and an affiliate faculty of American Indian Studies and Gender & Women's Studies.
J. Kēhaulani Kauanui is Professor of American Studies and an affiliate faculty member in Anthropology at Wesleyan University, where she serves as the current Chair of the American Studies Department, and the current Director of the Center for the Americas.
Doug Kiel is a citizen of the Oneida Nation and Assistant Professor at Northwestern University where he studies Native American history, with particular interests in the Great Lakes region and twentieth century Indigenous nation rebuilding.