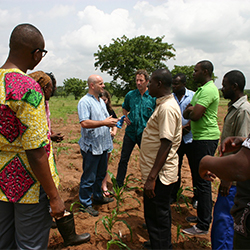 When: Tuesday, October 30, 2018
5:00 PM - 6:00 PM
Where: Scott Hall, Room 34, 601 University Place, Evanston, IL 60208 map it
Audience: Student
Contact: Susan Dennehy 847.467.7417

Group: Global Poverty Research Lab
Category: Lectures & Meetings
Description:
At the first in our new undergraduate lecture series, professors Dean Karlan and Chris Udry, co-directors of the Global Poverty Research Lab, will talk about the Lab and how undergraduate students interested in global poverty and development issues can get involved.
Established in 2017 at the Buffett Institute for Global Studies, the Global Poverty Research Lab is a collaborative research center that uses empirical evidence to understand drivers, consequences, and solutions to poverty issues around the world. Learn more by watching our video.
The Global Poverty Research Lab's new undergraduate lecture series encourages students to engage in development activities, both on campus and abroad. Speakers include not only Lab-affiliated faculty, grad students, and senior research analysts, but also include speakers from economics, sociology, anthropology, political science, math, and statistics who work on empirical questions related to poverty. 

Speakers:
Dean Karlan, Nemmers Distinguished Professor of Economics and Finance (Kellogg). His research focuses on microeconomic issues of poverty, typically employing experimental methodologies and behavioral economics insights to examine what works, what does not, and why in interventions in sustainable income generation for those in poverty, household and entrepreneurial finance, health behavior, and charitable giving.
Chris Udry, King Professor of Economics (Weinberg). He is a development economist whose research focuses on rural economic activity in Sub-Saharan Africa. His current research examines technological change, risk and financial markets, gender and households, property rights, psychological well-being and economic decision-making, and a variety of other aspects of rural economic organization.