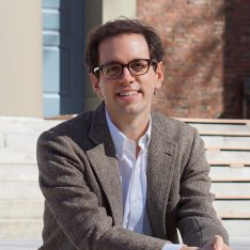 When: Monday, April 15, 2019
12:00 PM - 1:30 PM Central
Where: Kresge Hall, Room 1-515 (The Forum), 1880 Campus Drive, Evanston, IL 60208 map it
Audience: Faculty/Staff - Student - Public - Post Docs/Docs - Graduate Students
Cost: Free and open to the public.
Contact: Danny Postel

Group: Middle East and North African Studies
Category: Lectures & Meetings
Description:
In the 17th and 18th centuries, a pioneering community of Christian scholars laid the groundwork for the modern Western understanding of Islamic civilization. These men produced the first accurate translation of the Qur'an into a European language, mapped the branches of the Islamic arts and sciences, and wrote Muslim history using Arabic sources. Alexander Bevilacqua reconstructs this process, revealing the influence of Catholic and Protestant intellectuals on the secular Enlightenment understanding of Islam and its written traditions.
Drawing on Arabic, English, French, German, Italian, and Latin sources, Bevilacqua's rich intellectual history retraces the routes—both mental and physical—that Christian scholars traveled to acquire, study, and comprehend Arabic manuscripts. The knowledge they generated was deeply indebted to native Muslim traditions, especially Ottoman ones. Eventually the translations, compilations, and histories they produced reached such luminaries as Voltaire and Edward Gibbon, who not only assimilated the factual content of these works but wove their interpretations into the fabric of Enlightenment thought.
Bevilacqua shows that the Western effort to learn about Islam and its religious and intellectual traditions issued not from a secular agenda but from the scholarly commitments of a select group of Christians. These authors cast aside inherited views and bequeathed a new understanding of Islam to the modern West.
Alexander Bevilacqua is Assistant Professor of History at Williams College and the author of The Republic of Arabic Letters: Islam and the European Enlightenment (Harvard University Press, 2018). His research examines Western understandings of human diversity and of non-Western religious and intellectual traditions.
This lecture is part of the MENA program's quarterly New Directions in Middle East and North African Studies series, which presents scholars from a range of disciplines taking new approaches to the study of the region.