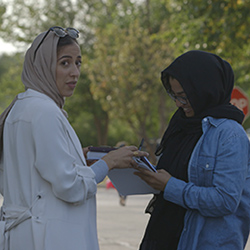 When: Wednesday, November 28, 2018
7:00 PM - 9:00 PM CT
Where: Block Museum of Art, Mary and Leigh, Block Cinema, 40 Arts Circle Drive, Evanston, IL 60208 map it
Audience: Faculty/Staff - Student - Public - Post Docs/Docs - Graduate Students
Cost: Free
Contact: Jill Mannor (847) 467-3970

Group: Alice Kaplan Institute for the Humanities
Co-Sponsor: Middle East and North African Studies
Global Politics and Religion Research Group

Category: Fine Arts
Description:
A filmmaker digs into tales of surveillance inside her Arab-American neighborhood in Chicago's south suburbs and discovers that her hometown was the subject of the largest FBI terrorism investigation conducted before 9/11. THE FEELING OF BEING WATCHED follows a filmmaker's personal journey to discover the truth about why her community fell under blanket government surveillance and asks: is it still happening?
Q&A with director Assia Boundaoui will follow the screening.
About the director
Assia Boundaoui is an Algerian-American journalist and filmmaker based in Chicago. She has reported for the BBC, NPR, AlJazeera, VICE, CNN and was the recipient of a first place Mark of Excellence Award from the Society of Professional Journalists. Assia has worked in an editorial capacity on the production of a number of documentary films, including HBO Documentary Films' MANHUNT (2013) which was awarded an Emmy. Assia has a Masters degree in journalism from New York University and is fluent in Arabic. THE FEELING OF BEING WATCHED is her directorial debut.
This screening is co-sponsored by Block Cinema, the MFA in Documentary Media, Muslim-cultural Student Association, the Global Politics and Religion Research Group of the Buffett Institute for Global Studies, the Middle East and North African Studies Program, and the Kaplan Humanities Institute as part of the year-long film series, "Security: Sound and Vision."
The series is part of the 2018-19 SECURITY Dialogues, a year-long conversation about struggles over security from humanistic perspectives, presented by the Alice Kaplan Institute for the Humanities in partnership with multiple Northwestern departments and programs.