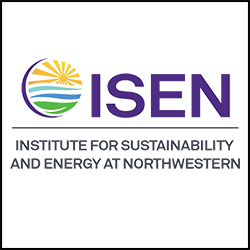 When: Friday, November 16, 2018
12:00 PM - 1:00 PM
Where: Technological Institute, L440, 2145 Sheridan Road, Evanston, IL 60208 map it
Audience: Faculty/Staff - Student - Public - Post Docs/Docs - Graduate Students
Cost: Free
Contact: Jeff Henderson 847.467.1972

Group: ISEN
Category: Lectures & Meetings
Description:
**This event on 11/16 has been CANCELLED and will be rescheduled at a later date. We apologize for this inconvenience.**
Summary: "Deep decarbonization" of the energy sector is required to limit the growing damages from climate change. This seminar will give an overview of the energy modeling that reveals a variety of pathways on how the U.S. could reduce CO2 emission by 80% or more by 2050. There is a serious division between those who advocate 100% renewable pathways to reducing CO2 emissions, and those who advocate pathways employing a broader range of technologies, including nuclear and/or carbon capture (CCS) options in addition to renewables. Citizens should understand how assumptions regarding the availability, performance, and integration of various technologies drive the energy, environmental and economic projections of these modeled clean energy pathways. The seminar will also explore how the choice of a narrow vs. broad portfolio of technologies for decarbonization carries major implications for energy policy and RD&D portfolios. Modeling of the "long game" of addressing climate change should help guide actions at the regional, state, local levels (as well corporate and nonprofit actions), federal policy for 2020 and beyond. 
Speaker Bio: Dr. Karl Hausker is a Senior Fellow in the Climate Program at the World Resources Institute, and at the Kleinman Center for Energy Policy, University of Pennsylvania. He leads analysis and modeling of climate mitigation, electricity market design, and the social cost of carbon. He led the Risky Business study of clean energy scenarios for the U.S., and lectures widely on deep decarbonization. He has worked for three decades in the fields of climate change, energy, and environment in a career that has spanned legislative and executive branches, research institutions, NGOs, and consulting. He has led climate policy analysis and modeling projects for USAID, USEPA, the Regional Greenhouse Gas Initiative, the Western Climate Initiative, and the California Air Resources Board. Much of his work has focused on the energy and transportation sectors, and on low carbon, climate resilient development strategies.
From 2007-2013, Karl was a Vice President at ICF International. He previously served as Deputy Director at the Center for Climate Strategies and as a Principal with Hagler Bailly. Karl lived in India all of 1999 as a Visiting Fellow at TERI. His experience also includes: serving President Clinton as Deputy Assistant Administrator in EPA's Policy Office where he represented EPA in interagency climate policy development and at COP-1; and serving as the Chief Economist for the U.S. Senate Committee on Energy and Natural Resources, where he worked on a diverse set of issues including electricity restructuring, CAFE standards, alternative fuels, western water policy, nuclear power, and energy security.
Karl holds an M.P.P and Ph.D. in Public Policy from University of California, Berkeley, and received his Bachelor's degree in Economics from Cornell University.
**This event on 11/16 has been CANCELLED and will be rescheduled at a later date. We apologize for this inconvenience.**