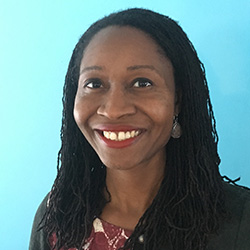 When: Wednesday, January 23, 2019
12:00 PM - 1:00 PM
Where: 620 Library Place, room 106, Evanston, IL 60208 map it
Audience: Faculty/Staff - Student - Public - Post Docs/Docs - Graduate Students
Contact: Program of African Studies 847.491.7323

Group: Program of African Studies
Category: Lectures & Meetings
Description:
Join the Program of African Studies as we provide lunch and a lecture.
Naaborko Sackeyfio-Lenoch, PAS Visiting Scholar; African History, Dartmouth College
Title: Beyond the Nkrumah State: Cultural Policy and its Afterlives in Post-independent Ghana
Abstract:
This paper explores the development of cultural organizations in Ghana's post-independence era. It traces how cultural organizations formed during the Nkrumah-era lived on in later years, highlighting the ways in which civil society organizations such as the Arts Council of Ghana became alternative sites for Ghanaians to envision the development of the nation's cultural and intellectual life. The Arts Council of Ghana also engaged with international bodies through shared cultural projects despite the volatile political and economic climate of the 1960s and 1970s. This paper exemplifies the ways in which transnational explorations of cultural life in post-independence Africa move us beyond the metropole/former colony binary and empire- and state-centered framings of African history. Moreover, post-independence historical narratives of Ghana (and other African countries more broadly) during this period have focused heavily on the violent political and economic landscapes that dramatically shaped the lives of the country's citizens. But this historiography has neglected--albeit as the result of inaccessible archival records--the ways in which civil society groups utilized new arenas at home and abroad in generative ways, to fashion concrete projects for cultural and intellectual development through the arts. I utilize previously unused archival records to trace the development of cultural projects and the goals of the Arts Council of Ghana during the transformative era of post-independence Africa.
Bio:
Naaborko Sackeyfio-Lenoch is Associate Professor of African History at Dartmouth College. Her research focuses on 20th century Ghanaian and West African history. She is author of The Politics of Chieftaincy: Authority and Property in Colonial Ghana: 1920-1950. Her articles have appeared in several journals including the International Journal of African History Studies, History in Africa, International Review of Social History and Journal of West African History. Sackeyfio-Lenoch is the recipient of an ACLS Frederick Burkhart Residential Fellowship for the 2018-2019 year. She will be in residence at the Program in African Studies to work on her current book about the history of Ghana's internationalism, and the role the country played in the global and cultural politics of the independence and Cold-War era.