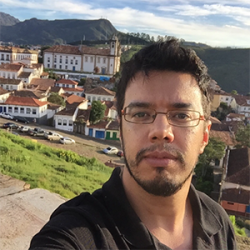 When: Wednesday, February 20, 2019
12:00 PM - 1:00 PM
Where: 620 Library Place, room 106, Evanston, IL 60208 map it
Audience: Faculty/Staff - Student - Public - Post Docs/Docs - Graduate Students
Contact: Program of African Studies 847.491.7323

Group: Program of African Studies
Category: Lectures & Meetings
Description:
Join the Program of African Studies as we provide lunch and a lecture.
Aldair Rodrigues, PAS Visiting Scholar; History, University of Campinas (UNICAMP), Brazil
Title: Deciphering Scarification in West Africa and Brazil During the Eighteenth Century: Evidence from Diasporic Archives
Abstract:
This talk examines body markings in West Africa based on evidence collected in eighteenth-century documents preserved in Minas Gerais, the Brazilian gold mining region that held one of the largest concentrations of enslaved people from the Bight of Benin in the Americas. A vast majority of these slaves were caught during the expansionist wars that led to the formation of the Dahomey kingdom in the first decades of the 1700s.
Special attention will be given to the facial scarifications of people from Savalou, located in the north of the Zou river, close to Yoruba territories. Among the cases examined is a tax record of 1756 describing "Domingos of Sabarú nation of twenty years of age (...) with a star cut on the corner of his right eyebrow, and he has those marks that every Sabaru people have in their faces, and is worth 300 thousand reis." Descriptions of drawings like this one can be find in a variety of primary sources, such as tax records, parish books, inventories, testament wills, list of prisoners, and Inquisition cases.
Considering that body marking and aesthetics used to play an important role in dynamics of belonging (ancestry, lineage, ethnicity, social status), beautification and healing, a close reading of scarification descriptions found in Brazilian archives sheds light on new dimensions of West-African History and diaspora.
Bio:
Aldair Rodrigues is assistant professor in the department of History at the University of Campinas (UNICAMP), Brazil, teaching graduate and undergraduate courses about Colonial Brazil and the African diaspora. His current project focuses on the connections between the Bight of Benin and Brazil during the eighteenth century, particularly dynamics that took place inland in both sides of the Atlantic basin.