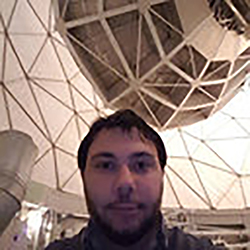 When: Wednesday, January 23, 2019
11:00 AM - 12:00 PM Central
Where: Technological Institute, F210, 2145 Sheridan Road, Evanston, IL 60208 map it
Audience: Faculty/Staff - Student - Post Docs/Docs - Graduate Students
Cost: Free
Contact: CIERA Astrophysics (847) 491-8646

Group: CIERA - Special Seminars
Category: Lectures & Meetings
Description:
Northwestern University's Center for Interdisciplinary Exploration and Research in Astrophysics (CIERA) presents a Special Seminar featuring: 
Marco Berton (Finnish Centre for Astronomy with ESO (FINCA ESO))
Talk Title: Rogue NLS1 - An AGN story

Abstract: Although more than 30 years have passed since their discovery, narrow-line Seyfert 1 galaxies (NLS1s) still present challenges for unified models of active galactic nuclei (AGN). Sources of electromagnetic emission at all frequencies, their physical properties and role in galaxy evolution remain poorly understood. In this seminar I will outline their most relevant characteristics, and I will present the two current main hypotheses about their physical nature. I will also highlight the results of a recent NLS1s JVLA radio survey, the largest carried out so far, and of recent studies about their host galaxy morphology, showing how they impact on our understanding of this interesting class of AGN.
Host: Giacomo Terreran