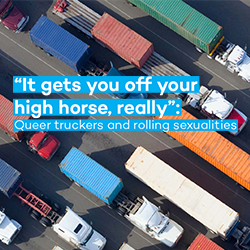 When: Monday, February 18, 2019
4:30 PM - 6:30 PM
Where: Kresge Hall, Trienens Forum (Room 1-515), 1880 Campus Drive, Evanston, IL 60208 map it
Audience: Faculty/Staff - Student - Public - Post Docs/Docs - Graduate Students
Contact: Suzette Denose

Group: Gender & Sexuality Studies Program
Category: Lectures & Meetings
Description:
The trucking industry has changed significantly since 1970, and this talk puts that history into the context of social and cultural shifts in order to argue that truck stops and the people who frequent them have been a consistent home for queer sexual and gender radicalism. Drawing from her oral histories and participant observation, Balay explores intersections of public sex, queer pleasures, and working-class embodiments.
Anne Balay graduated with a PhD from the University of Chicago, after which she promptly became a car mechanic. Though in subsequent years she returned to academia as a professor both at the University of Illinois and Indiana University Northwest, she never lost her interest in blue collar work environments. Dr. Balay moved to Gary, Indiana to teach, and was immidiately interested in the steel industry of the region. Her coworker and mentor, Jimbo Lane, suggested that she would be perfectly suited to meeting with and writing about the LGBT workers within the mill community, and Steel Closets was born. Anne then attended commercial truck driving school, got her CDL, and drove over the road. Oral histories of truck drivers she did in 2015/16 have led to her new book Semi Queer. Anne is currently a Visiting Assistant Professor at Haverford College.
Sponsored by Gender & Sexuality Studies and African American Studies.