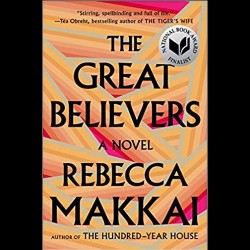 When: Saturday, February 23, 2019
6:30 PM - 7:30 PM Central
Where: Volumes BookCafe, 1474 N Milwaukee Ave, Chicago, IL 60622
Audience: Faculty/Staff - Student - Public - Post Docs/Docs - Graduate Students
Contact: Amy Danzer (847) 491-3051

Group: School of Professional Studies
Category: Academic
Description:
Northwestern University's MA in Writing and MFA in Prose and Poetry Programs Present: A Reading and Conversation with NU instructors Rebecca Makkai and Gerald Butters centered around Makkai's latest novel, THE GREAT BELIEVERS.
------------------------------
THE GREAT BELIEVERS
A novel of friendship and redemption in the face of tragedy
In 1985, Yale Tishman, the development director for a Chicago art gallery, is about to pull off a coup, bringing an extraordinary collection of 1920s paintings. Yet as his career begins to flourish, the carnage of the AIDs epidemic grows around him. One by one, his friends are dying and after his friend Nico's funeral, the virus circles closer and closer to Yale himself. Soon the only person he has left is Fiona, Nico's little sister.
Thirty years later, Fiona is in Paris tracking down her estranged daughter who disappeared into a cult. While staying with an old friend, a famous photographer who documented the Chicago epidemic, she finds herself finally grappling with the devastating ways the AIDS crisis affected her life and her relationship with her daughter. Yale and Fiona's intertwining stories take us through the heartbreak of 80's and the chaos of the modern world, as both struggle to find goodness in the midst of disaster.
http://rebeccamakkai.com/work/the-great-believers/
------------------------------
REBECCA MAKKAI is the Chicago-based author of the novel The Great Believers, one of the New York Times' top five novels for 2018, a finalist for the National Book Award and the ALA Carnegie Medal and winner of the Chicago Review of Books Award. Her other books are the novels The Borrower and The Hundred-Year House, and the collection Music for Wartime -- four stories from which appeared in The Best American Short Stories. The recipient of a 2014 NEA Fellowship, Rebecca has taught at the Tin House Writers' Conference and the Iowa Writers' Workshop, and is on the MFA faculties of Sierra Nevada College and Northwestern University. She is Artistic Director of StoryStudio Chicago.
GERALD R. BUTTERS, JR. is a Professor of History at Aurora University. He also teaches in the graduate Liberal Studies program at Northwestern University. A Fulbright scholar, Dr. Butters has published four award-winning books including Beyond Blaxploitation (2016), From Sweetback to Superfly: Race and Film Audiences in Chicago's Loop (2015), Banned in Kansas: Motion Picture Censorship, 1915-1966 (2007) and Black Manhood on the Silent Screen (2002). His research and publication focuses on the intersection of race and gender in American popular culture. His upcoming book on Oscar and BAFTA-nominated screenwriter Kevin Willmott will be published in 2020. He is currently editing special issues of the Journal of Popular Culture and Popular Culture Studies. Butters' essays have appeared in American Historical Review, Flow, Choice, Reviews in American History, Cercles, The Journal for Multimedia History, Film and History and Film/Literature Quarterly. Butters has lectured internationally, including an address to the European Commission in Luxembourg in 2009.
------------------------------
FREE AND OPEN TO THE PUBLIC.
Hosted by Northwestern University's School of Professional Studies
To learn about programming at NU's SPS, visit:
https://sps.northwestern.edu/