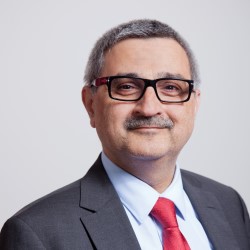 When: Monday, February 11, 2019
10:30 AM - 11:30 AM
Where: Ford Motor Company Engineering Design Center, ITW Classroom, 2133 Sheridan Road, Evanston, IL 60208 map it
Audience: Faculty/Staff - Student - Post Docs/Docs - Graduate Students
Contact: Mengwei Liu 847.491.6631

Group: Northwestern Initiative for Manufacturing Science and Innovation
Category: Lectures & Meetings
Description:
The next chapter in industrial automation and robotics will be written by the increasing development of autonomous systems -- systems that can change their behaviors in response to unanticipated events.
Many of the ingredients required to achieve industrial autonomous systems are already available digitally today, via control systems, sensors, advanced control algorithms etc. The missing ingredient, which is the key enabling technology in the journey towards autonomy, is industrial artificial intelligence – a combined physics and data based approach.
In addition to providing a brief survey of ABB research in the areas noted above, this seminar will highlight the opportunities and challenges that lie ahead on the road to truly autonomous systems. Finally, we will discuss the role of autonomous systems, and how they will deliver on the promise of significant productivity enhancements, amid the accelerating digitalization of today's industrial landscape.