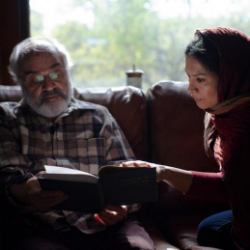 When: Saturday, February 23, 2019
1:00 PM - 3:30 PM Central
Where: Block Museum of Art, Mary and Leigh, Block Cinema, 40 Arts Circle Drive, Evanston, IL 60208 map it
Audience: Faculty/Staff - Student - Public - Post Docs/Docs - Graduate Students
Cost: Free of charge and open to the public.
Contact: Danny Postel

Group: Middle East and North African Studies
Category: Fine Arts
Description:
Mouth Harp in Minor Key: Hamid Naficy on/in Exile
(Maryam Sepehri, 2017, Iran/USA, digital, 62 min.)
Please join us for this FREE screening of the new documentary film about Northwestern professor Hamid Naficy, a pioneering scholar of Iranian, post-colonial, and diaspora cinema, followed by audience Q & A with Naficy and director Maryam Sepehri.
A story told between two continents and spanning half a century, Mouth Harp in a Minor Key is a uniquely intimate portrait and an examination of life under exile. Sepehri's film contextualizes Naficy's intellectual achievements within his personal experience and the dynamics of Iranian-American politics.
Hamid Naficy is Professor of Radio/Television/Film and a faculty member of the Middle East and North African Studies Program at Northwestern. His many books include Home, Exile, Homeland: Film, Media, and the Politics of Place (1999), An Accented Cinema: Exilic and Diasporic Filmmaking (2001), and the four-volume masterwork A Social History of Iranian Cinema (2011-12), published as:
Volume 1: The Artisanal Era, 1897–1941
Volume 2: The Industrializing Years, 1941–1978
Volume 3: The Islamicate Period, 1978–1984
Volume 4: The Globalizing Era, 1984–2010
"The four volumes of A Social History of Iranian Cinema constitute a landmark achievement." —Sara Saljoughi, International Journal of Middle East Studies
"Hamid Naficy is…the doyen of historians as well as critics of Iranian cinema. [This] colossal critical narrative…is a must read for virtually all concerned with modern Iranian history, and not just cinema and the arts." —Homa Katouzian
"A Social History of Iranian Cinema is an extraordinary achievement, a scholarly, detailed work in which a massive amount of material is handled with the lightest touch." —Laura Mulvey, author of Death 24× a Second: Stillness and the Moving Image
"A Social History of Iranian Cinema is essential reading not only for the cinephile interested in Iran's unique and rich cinematic history but also for anyone wanting a deeper understanding of the cataclysmic events and metamorphoses that have shaped Iran..." —Shirin Neshat
"This magisterial four-volume study of Iranian cinema will be the defining work on the topic for a long time to come." —Annabelle Sreberny
This event is co-sponsored by the Middle East and North African Studies Program, the Department of Radio/Television/Film, and the Block Museum of Art, and made possible by the generous gift from Northwestern alumnae Tamilla Ghodsi (WCAS '91) and Zuleika M. Ghodsi (WCAS '93) that established the Iranian-American Fund for Cultural Programming.
Free of charge and open to the public!