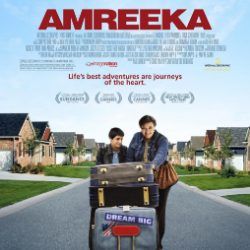 When: Wednesday, February 20, 2019
5:00 PM - 7:00 PM Central
Where: Kresge Hall, The Forum (Room 1-515), 1880 Campus Drive, Evanston, IL 60208 map it
Audience: Student - Graduate Students
Cost: Free
Contact: Danny Postel

Group: Middle East and North African Studies
Category: Multicultural & Diversity
Description:
Please join us for the 1st screening of the new MENA Film Series!
We will see Amreeka, by the Palestinian-American director Cherien Dabis.
Amreeka chronicles the adventures of Muna, a single mother who leaves the West Bank with Fadi, her teenage son, with dreams of an exciting future in the promised land of small town Illinois, only to end up working at the local White Castle. Told with heartfelt humor Amreeka is a universal journey into the lives of a family of immigrants and first-generation teenagers caught between their heritage and the new world in which they now live and the bittersweet search for a place to call home.
"Funny and playful...beautifully written and directed...made with a keen eye and a light touch, Amreeka excels at finding the warmth and humanity in a difficult situation." (LOS ANGELES TIMES)
Pizza and soft drinks will be served.
Open to all NU students.