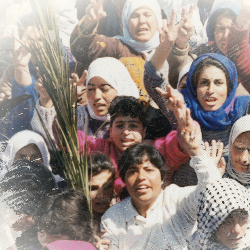 When: Saturday, May 18, 2019
1:00 PM - 3:30 PM Central
Where: Block Museum of Art, Mary and Leigh, Pick-Laudati Auditorium, 40 Arts Circle Drive, Evanston, IL 60208 map it
Audience: Faculty/Staff - Student - Public - Post Docs/Docs - Graduate Students
Cost: FREE & open to the public
Contact: Danny Postel

Group: Middle East and North African Studies
Category: Global & Civic Engagement
Description:
Please join us for this FREE screening of the documentary film Naila and the Uprising, followed by an in-depth discussion with the film's co-producer, Rebekah Wingert-Jabi, and Jehad Abusalim of the American Friends Service Committee.
About the Film
When a nation-wide uprising breaks out in the Occupied Palestinian Territories, a young woman in Gaza must make a choice between love, family, and freedom. Undaunted, she embraces all three, joining a clandestine network of women in a movement that forces the world to recognize the Palestinian right to self-determination for the first time. Naila and the Uprising chronicles the remarkable journey of Naila Ayesh and a fierce community of women at the frontlines, whose stories weave through the most vibrant, nonviolent mobilization in Palestinian history – the First Intifada in the late 1980s.
Using evocative animation, intimate interviews, and exclusive archival footage, this film brings out of anonymity the courageous women activists who have remained on the margins of history -- until now. While most images of the First Intifada paint an incomplete picture of stone-throwing young men front and center, this film tells the story that history overlooked – of an unbending, nonviolent women's movement at the head of Palestine's struggle for freedom.
While the First Intifada provides the backdrop for Naila and the Uprising, its lessons transcend that particular time and place. Through the experience of countless women engaged at all levels of society, we learn what is possible when women take the lead in struggles for rights and justice -- from a movement's inception to peace talks -- and what we lose when they are stripped of their roles. Echoing struggles around the world, we also witness the tremendous power of nonviolent organizing: women's committees, drawing on all the hallmarks of civil resistance, were able to mobilize hundreds of thousands through massive street rallies, mobile health clinics, underground schools and concerted boycott campaigns, sustaining the uprising while generating indigenous self-sufficiency. In Naila and the Uprising we see how women-led civil resistance can stir the masses, put pressure on power-holders, and affect real structural change.
About the Speakers
Rebekah Wingert-Jabi is a producer and editor of Just Vision's latest documentary, Naila and the Uprising. She has over 12 years of producing, directing and editing experience in film and television. She worked on films that aired on Al Arabiya, the Discovery Channel, and PBS. Rebekah lived in the West Bank for eight years, where she worked with Palestinian and Israeli filmmakers to produce films (Swish, Swish) and documentaries (A Good Samaritan). She also taught filmmaking at Al Quds University and Dar Al Kalima College. Rebekah has managed several youth media projects in the Middle East including a Palestinian-Israeli video exchange project. She is also an adjunct professional lecturer at American University School of Communication.
Jehad Abusalim is the Palestine Israel program associate at the American Friends Service Committee (AFSC) in Chicago and a doctoral candidate at NYU, where he studies Arab and Palestinian writings on Zionism from the first half of the 20th century. He is from Gaza, Palestine where he lived for most of his life. Jehad volunteered and worked with a number of youth groups, initiatives, and civil society organizations in fields related to youth and women's empowerment, popular education, Palestinian national reconciliation, and advocacy against the blockade on Gaza. He has been published in +972 Magazine, Al Jazeera English, Palestine Square, and Vox. He contributed a chapter to the book Gaza As Metaphor.
About the Series
Personal Archives, Political Memories: The Radical Past in Contemporary Documentary
As activists around the world revisit the successes and failures of earlier political movements, a new wave of documentaries and essay films have begun to look beyond official archives, recovering lost, forgotten, and unseen images to tell stories of struggle. Whether incorporating family photos, home movies, or decades-old documents of protest, the films in this series explore turbulent histories through a distinctly personal lens.
This event is FREE of charge and open to the public.
co-presented with the Block Museum of Art