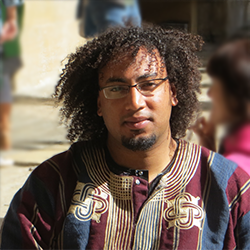 When: Wednesday, May 22, 2019
12:00 PM - 1:00 PM Central
Where: 620 Library Place, room 106, Evanston, IL 60208 map it
Audience: Faculty/Staff - Student - Public - Post Docs/Docs - Graduate Students
Contact: Program of African Studies (847) 491-7323

Group: Program of African Studies
Category: Lectures & Meetings
Description:
Oludamini Ogunnaike, Religious Studies, College of William & Mary
Deep Knowledge: Ways of Knowing in Sufism and Ifa, Two West African Intellectual Traditions
Abstract
This work examines and compares the epistemologies of two of the most popular West African intellectual traditions: Tijani Sufism and Ifa. Employing theories belonging to the traditions themselves and contemporary oral and textual sources, it examines how these traditions answer the questions: What is knowledge? How is it acquired? and How is it verified? Or more simply: "What do you know?," "How did you come to know it?," and "How do you know that you know?" After analyzing each tradition separately, and on its own terms, it compares them to each other and to certain features of Western theories of knowledge.
Despite having relatively limited historical contact, the epistemologies of both traditions appear to be based on forms of self-knowledge in which the knowing subject and known object are one. As a result, ritual practices that transform the knowing subject are key to cultivating these modes of knowledge. Therefore, this book argues that like the philosophical traditions of antiquity, the intellectual or philosophical dimensions of Tijani Sufism and Ifa must be understood and should be studied as a part of a larger project of ritual self-transformation designed to cultivate an ideal mode of being, or way of life, which is also an ideal mode of knowing. Furthermore, it argues that both traditions offer distinct and compelling perspectives on, and approaches to, metaphysics, ontology, epistemology, psychology, and ritual practice, which it suggests and begins to develop through comparison.
Bio
Oludamini Ogunnaike is an assistant professor of Religious Studies at the College of William and Mary. He holds a PhD in African Studies and the Study of Religion from Harvard University, and spent a year as a postdoctoral fellow at Stanford University's Abbasi Program in Islamic Studies.
Ogunnaike's research examines the philosophical dimensions of postcolonial, colonial, and pre-colonial Islamic and indigenous religious traditions of West and North Africa, especially Sufism and Ifa, an indigenous Yoruba religious tradition. He seeks to understand the philosophical dimensions of these traditions by approaching them and their proponents not merely as sources of ethnographic or historical data, but rather as distinct intellectual traditions and thinkers, even as sources of theory and possible inspirations for methods of scholarship in the humanities and social sciences. He is currently working on a book entitled, Sufism and Ifa: Ways of Knowing in Two West African Intellectual Traditions and maintains a digital archive of West African Sufi poetry.