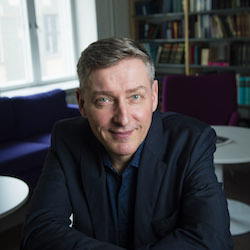 When: Thursday, May 2, 2019
4:00 PM - 5:30 PM Central
Where: Kresge Hall, ROOM 5531 (CLS SEMINAR ROOM), 1880 Campus Drive, Evanston, IL 60208 map it
Audience: Faculty/Staff
Contact: Rossitza Guenkova-Fernandez (847) 491-3611

Group: Religious Studies Department
Category: Academic
Description:
From Conflict to Recognition: Rethinking a Scholarly Paradigm in the Study of Christian Origins
by Ismo Dunderberg, Professor of New Testament Studies, University of Helsinki.
Ismo Dunderberg is Professor of New Testament Studies at the University of Helsinki, Finland. He's author of The Beloved Disciple in Conflict (Oxford University Press, 2006), Beyond Gnosticism: Myth, Lifestyle, and Society in the School of Valentinus (Columbia University Press, 2008), and Gnostic Morality Revisited (Mohr Siebeck, 2015). His scholarly interests include the gospel and epistles of John, the Gospel of Thomas, second-century Christianity, Gnosticism, and the Nag Hammadi Library.
The event is co-sponsored by Critical Theory and American Studies