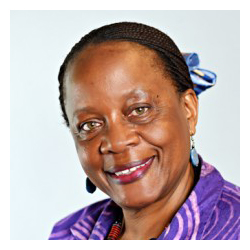 When: Tuesday, May 21, 2019
3:00 PM - 4:00 PM Central
Where: 620 Library Place, Evanston, IL 60208 map it
Audience: Faculty/Staff - Student - Public - Post Docs/Docs - Graduate Students
Contact: Program of African Studies 847.491.7323

Group: Program of African Studies
Category: Lectures & Meetings
Description:
Biography in the 21st Century: Writing and Re-writing Buganda's Notorious Queen-mother (1897-1956) in the "Radical Openness of History"
Nakanyike Musisi, History, University of Toronto
Abstract
At an almost global scale, the past decade or so, have witnessed a decrease in enrollment numbers in the history discipline at the University level. On the African continent, there has been government disinterest in the humanities demonstrable in lack of funding for research and an overt absence of appreciation of History's value for the continent's future. The raging debates between modernists and postmodernists within the discipline itself have been an addendum to these two occurrences. These debates continue to tender alternative understandings of the nature and approaches to history.
I utilize a private archive (Hamu Mukasa's Notes) to engage with the larger question of the meaning of history (in both its lower and upper case) in such an age -- the age I refer to as 'in the radical openness of history.' How particularly, do we write (engage with and package) past events, individuals/groups, places, objects, sounds, words, memories, etc. and for what goal and with what impact?
I argue that for all its challenges, the current era offers an opportune moment to rethink these questions with vigor and in new ways. In 1941, Buganda's newly widowed queen, Irene Namaganda (Edward Mutesa II's mother) sexually eloped with a commoner (twenty years younger) and remarried in a church wedding. Castigating her for having an "abominable disease" (pregnancy), the Buganda parliament sued the couple in a long and drawn court case notoriously dabbed that of an "abominable crime" – a crime against the state. She was dethroned and the couple banished from the capital for three years.
The writing and re-writing of this controversial queen mother's biography offers me a foot into this exciting arena with an anticipation that the end product will demonstrate both the reproductive and transformative elements of her social reality. Ultimately, I explore how on the one hand, her life story can either be used to sustain and reproduce or to undermine and transform the legitimacy of a set of social arrangements amidst the current resurgence of cultural politics in Uganda and on the other hand, contribute to the recent debates about the nature and approaches to history.
Bio
Professor Musisi teaches in the Department of History at the University of Toronto and is heading Makerere Institute of Social Research at Makerere University in Uganda. Her research interests are: African women, education, and women and development. Her publications cover all the above topics. Professor Musisi is one of 30 Fulbright Distinguished New Century Scholars (2005/2005). She is working on a book on higher education in Uganda.