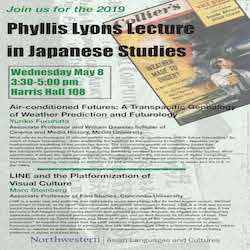 When: Wednesday, May 8, 2019
3:30 PM - 5:00 PM Central
Where: Harris Hall, 108, 1881 Sheridan Road, Evanston, IL 60208 map it
Audience: Faculty/Staff - Student - Public - Post Docs/Docs - Graduate Students
Contact: Department of Asian Languages and Cultures (847) 491-5288

Group: Department of Asian Languages and Cultures
Category: Academic
Description:
Air-conditioned Futures: A Transpacific Genealogy of Weather Prediction and Futurology
Yuriko Furuhata Associate Professor and William Dawson Scholar of Cinema and Media History, McGill University
What role do technologies of climate control such as modern air conditioning play in future forecasting? So much of future forecasting – from predicting the weather to the economy to fashion – depends on a mathematical modelling of the projected future. The exponential growth of computing power has accelerated this practice of prediction since the mid-20th century. This talk critically engages with the transpacific genealogy of future forecasting (including weather forecasting) and weather control. More specifically, it shows the tight genealogical relationship between the infrastructure of digital computing, meteorology, and air-conditioning. In so doing, it highlights the managerial undertone of future prediction and future forecasting, especially as practiced by self-proclaimed "futurologists" in Japan and the U.S. in the 1960s.
LINE and the Platformization of Visual Culture
Marc Steinberg Associate Professor of Film Studies, Concordia University
LINE is a super app and platform that does pretty much everything. Like its better-known cousin, WeChat (dominant in China), or its other regional cousin KakaoTalk (dominant in Korea), LINE is a chat app turned social media service launched in and most widely taken up in Japan. While debuting as a chat app, it has become a full-fledged social media platform and services provider. As such, its impact on contemporary Japanese culture and cultural production are significant, and go well beyond its facilitation of chat. This presentation takes up David Nieborg and Thomas Poell's concept of the "platformization of cultural production" to examine the ways that the LINE platform impacts the production of contents in Japan. Focusing on its famous stickers in particular, this talk will investigate LINE's entrepreneurial pitch to sticker makers, in relation to wider debates around the global economic and political power of Silicon Valley platforms in Japan and East Asia.