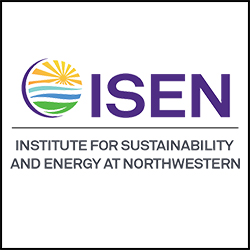 When: Tuesday, May 14, 2019
10:00 AM - 11:00 AM
Where: Technological Institute, Room F160, 2145 Sheridan Road, Evanston, IL 60208 map it
Audience: Faculty/Staff - Student - Post Docs/Docs - Graduate Students
Cost: Free
Contact: Mike McMahon 847.467.1361

Group: ISEN
Category: Global & Civic Engagement
Description:
The Institute for Sustainability and Energy at Northwestern (ISEN) is pleased to welcome our partners at the World Wildlife Fund (WWF) for a public presentation on global challenges and solutions associated with plastic pollution, packaging, and materials sustainability.
Today, the world produces more plastic waste than ever, adding about 300 million additional tons per year—nearly equivalent to the weight of the entire human population. Most of that plastic—approximately 79 percent—ends up in landfills or the environment. If current trends continue, the oceans could contain more plastic than fish, ton for ton, by the year 2050, with the majority of this waste entering the seas via the world's freshwater systems.
WHEN: Tuesday, May 14, 10-11 AM
WHERE: Tech Building in room F160 (2145 Sheridan Rd, Evanston, IL 60208)
**RSVP HERE**

--
SPEAKER BIO:
Hannah Sherman, Program Officer for Packaging and Materials Sustainability at World Wildlife Fund (WWF-US), spends her days using scientific knowledge to solve real-world problems. Hannah supports WWF's engagement with the private sector, liaising with WWF experts and partners to advance company efforts in innovating to reduce plastic pollution and waste in the environment. She is passionate about the opportunities that exist at the nexus of innovation and the environment, and the broad reach and impact that companies can have in advancing a more sustainable future.
Hannah earned a Bachelor of Science degree in Earth and Environmental Science from the University of Michigan-Ann Arbor, where she was a Graham Sustainability Scholar. During her time at Michigan, Hannah founded a student organization responsible for designing and implementing a comprehensive recycling program at the University of Michigan Football Stadium, which holds 115,000 people and is the largest in the United States. Hannah is an avid skier, hiker, amateur pottery-maker, and coffee lover.