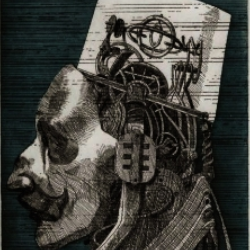 When: Thursday, May 16, 2019
3:00 PM - 4:00 PM Central
Where: Block Museum of Art, Mary and Leigh, Pick-Laudati Auditorium, 40 Arts Circle Drive, Evanston, IL 60208 map it
Audience: Faculty/Staff - Student - Public - Post Docs/Docs - Graduate Students
Cost: Free and open to the public
Contact: Danny Postel

Group: Middle East and North African Studies
Category: Fine Arts
Description:
Please join the MENA Program and the Block Museum of Art for this FREE screening of Last Days of the Man of Tomorrow (2017, Lebanon, 29 min), the story of Manivelle, an automaton whose rise and fall mirrors that of Lebanon. Once the wonder of his age, Manivelle is now rusty and mostly forgotten.
The film's director, Fadi Baki, and co-writer, Omar Khouri, will be present. Rebecca Johnson, Assistant Professor of English and the Humanities and Crown Junior Chair in Middle East Studies at Northwestern, will join them in conversation, followed by audience Q & A.
Fadi Baki is a writer and director from Beirut. He is a co-founder and co-editor of Samandal, one of the Middle East's premiere comics magazines, and Beirut Animated, the Lebanese animation film festival. He currently divides his time between teaching, motion graphics, comics and filmmaking. His previous films include It Came from Almakkab (2000), El Burro Magnifico (2006), A Headline Romance (2007), and Shatila (2016).
Omar Khouri is a co-founder of Samandal, the first experimental comics periodical in the Arab world. He is currently Samandal's Editor-in-Chief and one of its many international contributing artists. In 2010, Omar's sociopolitical satire "Utopia" won Best Arabic Comic book at the Algerian International Comic Book Festival (FIBDA). Omar's work spans many art forms, including painting, comics, animation, theatre, film, and music. He lives and works between Beirut and London.
Fadi and Omar are currently Fellows with the Gray Center for Arts and Inquiry, a forum at the University of Chicago for experimental collaborations between artists and scholars. Their project Redrawing the Arab World, a collaboration with University of Chicago professor Ghenwa Hayek, engages the roles of science fiction and comics within Arab cultures and explores how they might be used to envision different futures in the Middle East.
Watch the trailer:
https://youtu.be/BKJAcllbTNM
Free of charge and open to the public.