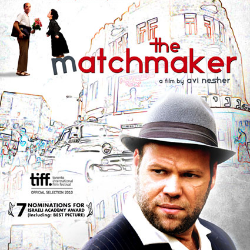 When: Monday, June 3, 2019
5:00 PM - 7:00 PM Central
Where: Kresge Hall, Room 1-515 (The Forum), 1880 Campus Drive, Evanston, IL 60208 map it
Audience: Faculty/Staff - Student - Post Docs/Docs - Graduate Students
Cost: Free
Contact: Danny Postel

Group: Middle East and North African Studies
Category: Lectures & Meetings
Description:
From the New York Times:
In the summer of 1968 in Haifa, Israel, a teenager named Arik (Tuval Shafir) finds his lazy vacation from school overtaken by an unexpected gig: doing background checks for a mysterious, scarred matchmaker who lives in a colorful, low-rent part of town. In "The Matchmaker," written and directed by Avi Nesher, Arik's coming-of-age story and the personalities he encounters along the way express the hopes and fears of a country awash in unsettling history.
Mr. Nesher's film, inspired by Amir Gutfreund's book "When Heroes Fly" and told as an extended flashback with Arik's periodic voice-overs, is grounded in characters who have the slightly larger-than-life cinematic quality of childhood memories. Arik's boss, Yankele (Adir Miller), is a melancholic man who gives his unmarried clients "what they need, not what they want."
He has a somber charm, deep down carrying the unwanted legacy of having lived through the Holocaust. He shares a bond with other survivors: most of all Clara (Maya Dagan), a warm, fragile woman who runs an illegal cards night, but also Sylvia (Bat-el Papura), a cheerful dwarf who runs a neighborhood cinema with her family.
Arik juggles his job with the temptations of his best friend's cousin Tamara (Neta Porat), a brash, bra-averse girl who blasts Steppenwolf and persuades Arik's scout troop to leap into a fountain. The story also features a stubborn librarian, Meir (Dror Keren), who aggressively pursues Clara after Arik introduces him to Yankele.
"The Matchmaker," which garnered several awards in Israel (where it was titled "Once I Was"), probably owes part of its success to the director's knack for sketching characters' personal rationales and considerable emotional burdens without letting any one of them commandeer the film's tone. Mr. Nesher, a popular filmmaker who bundles heavy themes and cultural touchstones into a palatable package, conveys how secrets and suspicions come naturally to those who undergo unspeakable suffering, but he also devotes attention to Arik's harmless adolescent angst over Tamara.
The efficient approach and tendency toward broad strokes prevent the movie from taking a deep hold, and Mr. Shafir is a hesitant young actor to have at the center. But, like the title character, Mr. Nesher demonstrates a practical intelligence for making basic connections.
The Matchmaker
Director Avi Nesher
Writers Amir Gutfreund, Avi Nesher Stars Adir Miller, Maya Dagan, Tuval Shafir, Dror Keren, Dov Navon
Running Time 1h 52m
Genre Drama
Pizza and soft drinks will be served!