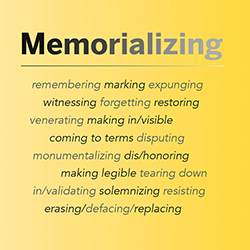 When: Monday, November 18, 2019
4:30 PM - 6:30 PM
Audience: Faculty/Staff - Student - Public - Post Docs/Docs - Graduate Students
Cost: Free and public welcome!
Contact: Jill Mannor 847.467.3970

Group: Alice Kaplan Institute for the Humanities
Category: Lectures & Meetings
Description:
Fall keynote of the Kaplan Humanities Institute's Memorializing Dialogues:
Jean M. O'Brien (History, Native American and Indigenous Studies, University of Minnesota), author of "What is a Monument to Massasoit Doing in Kansas City? The Memory Work of Monuments and Place in Public Displays of History" (Ethnohistory, 61 635-53, 2014).
in conversation with
Thomas Stubblefield (Art Education, Art History, and Media Studies, UMass Dartmouth), author of 9/11 and the Visual Culture of Disaster (Indiana University Press, 2014).
More details to come in Fall 2019!
____________________________________________
The 2019-2020 Humanities Dialogue: MEMORIALIZING
A year-long public conversation about commemorating, contesting, and claiming from humanistic perspectives.
What stories do monuments tell?
When is remembrance also a repression?
How does memorializing shape the present?
How do we negotiate collective and disputed memories?

Presented in partnership with multiple Northwestern departments and programs, the Memorializing Dialogues will include talks by distinguished scholars and artists from different disciplinary perspectives.