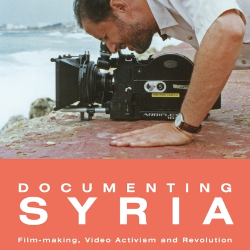 When: Monday, September 30, 2019
12:00 PM - 1:30 PM Central
Where: Kresge Hall, Room 1-515 (The Forum), 1880 Campus Drive, Evanston, IL 60208 map it
Audience: Faculty/Staff - Student - Post Docs/Docs - Graduate Students
Cost: Free
Contact: Danny Postel

Group: Middle East and North African Studies
Co-Sponsor: Department of Performance Studies

Category: Lectures & Meetings
Description:
Syria is one of the most important countries in the world for the documentary film industry. Since the 1970s, Syrian cinema masters have played a defining role in avant-garde filmmaking and political dissent against authoritarianism. After the outbreak of violence in 2011, an estimated 500,000 video clips were uploaded, making it one of the first YouTubed revolutions in history.
Documenting Syria: Film-Making, Video Activism and Revolution by Josepha Ivanka (Joshka) Wessels is is the first history of documentary filmmaking in Syria. Based on extensive media ethnography and in-depth interviews with Syrian filmmakers in exile, the book offers an archival analysis of the documentary work by masters of Syrian cinema, such as Nabil Maleh, Ossama Mohammed, Mohammed Malas, Hala Al Abdallah, Hanna Ward, Ali Atassi and Omar Amiralay. Wessels traces how the works of these filmmakers became iconic for a new generation of filmmakers at the beginning of the 21st century and maps the radical change in the documentary landscape after the revolution of 2011.
Josepha Ivanka (Joshka) Wessels is Senior Lecturer in Communication for Development with the School of Arts and Communication at Malmö University in Sweden and Senior Fellow at the Centre for Syrian Studies at the University of St Andrews in Scotland. She has a PhD in Human Geography from the University of Amsterdam and has carried out postdoctoral research at the University of Copenhagen and Lund University. Until 2012 she was a documentary filmmaker and consultant on the MENA region, with her work being broadcast on the BBC and Al Jazeera English.
co-sponsored by the Department of Performance Studies, the MFA in Documentary Media & the MENA Program