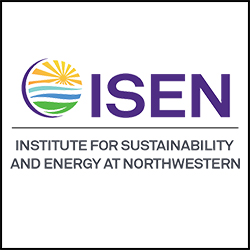 When: Wednesday, September 25, 2019
12:00 PM - 1:00 PM
Where: Technological Institute, Rm. J435, 2145 Sheridan Road, Evanston, IL 60208 map it
Audience: Student - Graduate Students
Cost: Free. Registration required.
Contact: Julianne Beck 847.467.1366

Group: ISEN
Category: Lectures & Meetings
Description:
Wednesday, September 25 from noon to 1 p.m. (pizza will be served)
Or
Tuesday, October 1 from noon to 1 p.m. (pizza will be served)
BACKGROUND & DEADLINES
Join the Institute for Sustainability and Energy at Northwestern (ISEN) to learn about opportunities to participate in the 2019-2020 Clinton Global Initiative University (CGI U) program. Launched in 2007, CGI U is a leadership development program for undergraduate and graduate students. Northwestern University joined CGI U in 2014 with organizational representation from ISEN. The 2019-2020 CGI U program will be the first to include year-round programming including the first international convening of the CGI U Annual Meeting.
To be a part of this program, students need to commit to addressing a pressing global challenge or issue in their local campus or community. This pledge - called a "Commitment to Action" - takes the form of a new, specific, and measurable project that each students develops either as an individual or with their peers.
Northwestern's on-campus information sessions will provide an overview of the program and application requirements. Students may bring or will meet potential teammates and begin to craft their Commitment to Action in one of five key focus areas: education, environment and climate change, peace and human rights, poverty alleviation, or public health.
Students whose proposals are selected by CGI U will be invited to participate in year round programming including the 12th Annual CGI U meeting April 17 – 19, 2020 at the University of Edinburgh in Scotland.
The application deadline for early decision and travel assistance is Monday, September 30. The final application has been extended to Monday, November 4.
Register below to attend an information session. The September 25 session will take place in the Tech Building, Room J435, 2145 Sheridan Rd., Evanston, IL 60208. The October 1 session will take place at Chambers Hall, 600 Foster Street, Lower Level, Evanston, IL 60208
Register at this link: https://forms.gle/RAvBPykFTJTwTvd46
Prior to attending, students are required to watch the introductory program video here: https://drive.google.com/file/d/143o-cxejGC1PZY5XplufkLIz18e60Hd9/view
For more information: https://isen.northwestern.edu/cgi-u