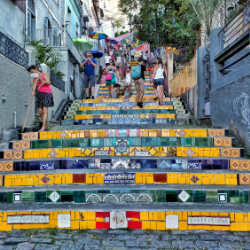 When: Wednesday, September 18, 2019
9:00 AM - 12:00 PM Central
Where: Norris University Center, Louis Room (Second Floor), 1999 Campus Drive, Evanston, IL 60208 map it
Audience: Faculty/Staff - Student
Contact: Danny Postel

Group: Latin American and Caribbean Studies
Category: Academic
Description:
Interested in studying the politics, arts, culture, religion, and history of Latin America and the Caribbean? Curious about study abroad opportunities in the region, and other options for your course of study? Visit the table of the Latin American & Caribbean Studies (LACS) Program at the Weinberg College Academic Directions Fair and talk with our faculty and staff!
The LACS minor offers courses in subjects as diverse as the ancient cultures of the Aztecs, Maya, and Inca; the colonial and modern history of Latin America; art of Latin America; Latin American politics; and the Latinx cultures of the United States.
Individual classes may focus on questions of gender, race, and the African Diaspora, or on specific issues such as immigration to the U.S. from Latin America, the cultural impact of Catholicism in Latin America, or critical events such as the Mexican revolution or recent elections.
Come find out more!