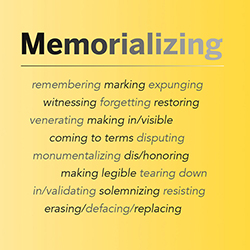 When: Thursday, October 17, 2019
12:30 PM - 2:00 PM
Where: Parkes Hall, #222, 1870 Sheridan Road, Evanston, IL 60208 map it
Audience: Faculty/Staff - Student - Public - Post Docs/Docs - Graduate Students
Cost: Free and open to the public.
Contact: Jill Mannor 847.467.3970

Group: Alice Kaplan Institute for the Humanities
Category: Lectures & Meetings
Description:
Democracy and War Memory in Japan: Fukushima and Okinawa as Method
Although rarely featured in the contemporary debate on the crisis of democracy, Japanese politics illuminates two of the most arduous contradictions of democracy—between equality and expertise and between national sovereignty and international relations. Regaining independence in 1952, Japan has prioritized expertise and international relations, coterminous with the developmental state and the US-Japan security alliance, respectively. This particular institutional configuration has been supported by the ways in which the government and citizens commemorated the Asia-Pacific War: the atomic bombings of Hiroshima and Nagasaki were remembered to legitimate the "peaceful" use of nuclear energy as a foundation of technocratic operations of the developmental state, whereas the tragedy of Okinawa was forgotten to hide the inequality of the US-Japan security alliance. This talk examines these intersections of democracy and war memory through case studies of political struggles over the Fukushima Daiichi Nuclear Disaster and the US military bases in Okinawa.
Co-presented by Sociology and Kaplan Humanities Institute.
Hiro Saito is Assistant Professor of Sociology at Singapore Management University. Broadly interested in intersections between power and knowledge, he studies how interactions between government, experts, and citizens shape public policy. He is the author of The History Problem: The Politics of War Commemoration in East Asia and currently working on The Horizon of Democracy: Fukushima and Okinawa as Method. 
__________________________________________________________
The 2019-2020 Humanities Dialogue: MEMORIALIZING
A year-long public conversation about commemorating, contesting, and claiming from humanistic perspectives.
What stories do monuments tell?
When is remembrance also a repression?
How does memorializing shape the present?
How do we negotiate collective and disputed memories?
Presented in partnership with multiple Northwestern departments and programs, the Memorializing Dialogue will include talks by distinguished scholars and artists from different disciplinary perspectives.