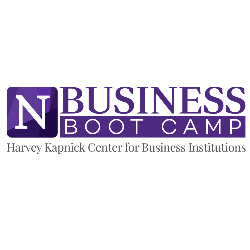 When: Saturday, November 2, 2019
10:00 AM - 3:00 PM Central
Where: 555 Clark Street, B01, Evanston, IL 60208 map it
Audience: Student
Cost: $20 Registration Required.
Contact: Harvey Kapnick Center for Business Institutions 847.491.2706

Group: Kapnick Center for Business Institutions
Category: Academic
Description:
If you are considering or exploring careers in consulting, banking, entrepreneurship, or finance, Business Boot Camp will provide you an understanding of business basics through real-world business case discussions.
As you are inspired by Northwestern alumni, you will learn the fundamentals of accounting, finance and strategy through alumni-led exercises and an interactive panel.
The Kapnick Center's Business Boot Camp is led by Northwestern University alumni, Dan Shedivy, Phil Reitz and Blake Heyde.
Business Boot Camp Agenda
Wednesday Prep Session: October 30th (6:30 PM - 7:30 PM)
Saturday Boot Camp: November 2nd (10:00 AM - 3:00 PM)
10:00 AM - 11:45 AM — Interactive Case Study Part 1: An Entrepreneur engages an Investment Banker to consider raising capital or selling their company to a Private Equity Investor
12:00 PM - 1:00 PM — Alumni Panel Discussion Over Catered Lunch: a group of alumni with backgrounds in consulting, banking, investing, and industry will discuss different career paths and answer your questions
1:15 PM - 3:00 PM — Interactive Case Study Part 2: The Private Equity Investor Engages a Strategic Consultant to evaluate the growth strategy for the company they invested in during the morning session
The Prep Session and Boot Camp will both be held in 555 Clark St., #B01.