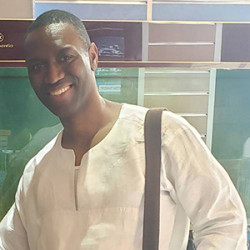 When: Wednesday, November 6, 2019
12:00 PM - 1:00 PM CT
Where: 620 Library Place, room 106, Evanston, IL 60208 Evanston map it
Audience: Faculty/Staff - Student - Public - Post Docs/Docs - Graduate Students
Contact: Program of African Studies (847) 491-7323

Group: Program of African Studies
Category: Lectures & Meetings
Description:
Join the Program of African Studies for our weekly lunch and lecture.
Communographies: New Histories of Culture, Community, Nationalism, and Decolonization in Ghana/Africa/World
Kwasi Konadu, Africana and Latin American Studies, Colgate University
Abstract:
Drawing on his new book, Our Own Way in This Part of the World: Biography of an African Community, Culture, and Nation, Konadu's talk will use the story of healer and blacksmith Kofi Dↄnkↄ, and the interlaced evolution of his kin, community, and culture, to explore the critical themes of colonialism, nationalism and decolonization in Ghana and the wider world. Kofi Dɔnkɔ was a marginal peasant farmer whose fortune and misfortune rode the tides of colonial Ghana's cocoa boom, an everyday person who offers a window into the social lives and networks of Africa's rural dwellers, and an important intellectual who articulated a profound knowledge of disease and therapeutics to trainees in West Africa and in the African diaspora as well as a notable group of scholars in history and anthropology. Through an approach called communography, Konadu interweaves Dᴐnkᴐ's life and community with the history of Gold Coast/Ghana and broader patterns in world history. Shaped by historical forces from the colonial cocoa boom to decolonization and political and religious parochialism, the story of Dᴐnkᴐ's community provides a non-national, decolonized example of social organization structured around spiritual forces and humanistic values that serves as a powerful alternative to nationalist statemen and as an important reminder that scholars take their cues from the lived experiences and ideas of the people they study.
Bio:
Kwasi Konadu is John D. and Catherine T. MacArthur Endowed Chair and Professor at Colgate University, where he teaches courses in African history and on worldwide African histories and cultures. With extensive archival and field research in West Africa, Europe, Brazil, the Caribbean, and North America, his writings focus on African and African diasporic histories, as well as major themes in world history. He is the author of Our Own Way in This Part of the World: Biography of an African Community, Culture, and Nation (Duke University Press, 2019), (with Clifford Campbell) The Ghana Reader: History, Culture, Politics (Duke University Press, 2016), Transatlantic Africa, 1440-1888 (Oxford University Press, 2014), The Akan Diaspora in the Americas (Oxford University Press, 2010), among other books.
A father and husband first and foremost, Konadu is also a healer (Tanɔ ɔbosomfoɔ) who studied with his grandfather in Jamaica and then in Takyiman (central Ghana) as well as a publisher of scholarly books about African world histories and cultures through Diasporic Africa Press. His life work is devoted to knowledge production and the worldwide communities and struggles of peoples of African ancestry.