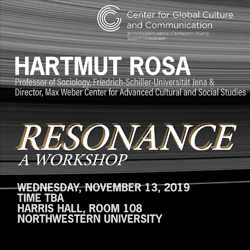 When: Wednesday, November 13, 2019
All day
Where: Harris Hall, Room 108, 1881 Sheridan Road, Evanston, IL 60208 map it
Audience: Faculty/Staff - Student - Public - Post Docs/Docs - Graduate Students
Cost: Free
Contact: Gabriela Mayes

Group: Center for Global Culture and Communication (CGCC)
Co-Sponsor: Critical Theory

Category: Academic
Description:
THE CENTER FOR GLOBAL CULTURE AND COMMUNICATION,
an interdisciplinary initiative of Northwestern University School of Communication,
presents:
RESONANCE: A WORKSHOP
with
HARTMUT ROSA
Professor of Sociology, Friedrich-Schiller-Universität Jena &
Director, Max Weber Center for Advanced Cultural and Social Studies
and
 
AMANDA ANDERSON (English, Brown University)
CRAIG CALHOUN (Social Sciences, Arizona State University)
DIPESH CHAKRABARTY (History, University of Chicago)
MICHAEL STEINBERG (History & Music, Brown University)
CHARLES TAYLOR (Philosophy, McGill University)
Date: Wednesday, November 13, 2019
Place: Harris Hall 108
Time TBA
To register for this workshop, please email Gabriela Mayes at g-mayes@u.northwestern.edu.
This event is a day-long workshop on Hartmut Rosa's latest work translated into English, Resonance: A Sociology of Our Relationship to the World (August 2019). Resonance might be regarded as a sequel to Rosa's much-discussed book, Social Acceleration: A New Theory of Modernity (2013), which advanced an account of the temporal structure of modern society. Resonance, in turn, explores the negative existential consequences of social acceleration, especially the pervasive sense of alienation and disenchantment, and offers meditations on how one might engage and overcome those consequences by insistently dwelling in the world rather than withdrawing from it. 

This event is co-sponsored with the generous support of the Program in Critical Theory and the Department of Sociology, and the Center for Transcultural Studies.