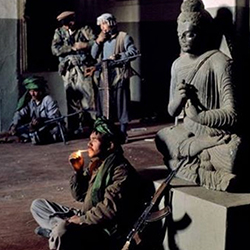 When: Friday, January 17, 2020
12:00 PM - 2:00 PM Central
Where: Kresge Hall, #1515 (Trienens Forum), 1880 Campus Drive, Evanston, IL 60208 map it
Audience: Faculty/Staff - Student - Public - Post Docs/Docs - Graduate Students
Cost: Free; public welcome!
Contact: Jill Mannor (847) 467-3970

Group: Alice Kaplan Institute for the Humanities
Category: Lectures & Meetings
Description:
The Global Antiquities Research Workshop presents Professor Gil Stein (Oriental Institute of the University of Chicago) in a talk about the Oriental Institute's cultural heritage preservation projects in Afghanistan.
A light lunch will be served.
Afghanistan is the quintessential "crossroads of cultures" where the civilizations of the Near East, Central Asia, South Asia and China interacted over the millennia in a constantly shifting mixture of trade, emulation, migration, imperial formations, and periodic conflict. This complex history of contacts gave rise to some of the most important archaeological, artistic, architectural, and textual treasures in world cultural heritage. Sadly, the last 40 years of continuous war in Afghanistan - from the Soviet invasion of 1979 to the present – have devastated the cultural heritage of Afghanistan at every level. This talk gives an overview of Afghan cultural patrimony, and describes initiatives where the University of Chicago Oriental Institute has been working in partnership with Afghan heritage specialists.
Gil Stein is Professor of Near Eastern Archaeology at the Oriental Institute of the University of Chicago and Director of the Chicago Center for Cultural Heritage Preservation. Since 2012 he has led the US State Department-funded partnership between the Oriental Institute and the National Museum of Afghanistan in Kabul. In fall 2017 he started a new Cultural Heritage Preservation project in Tashkent, Uzbekistan, aimed at training museum conservators from all 5 of the post-soviet Central Asian Republics. His most recent book is the co-edited volume "Preserving the Cultural Heritage of Afghanistan." https://oi.uchicago.edu/article/new-publication-preserving-cultural-heritage-afghanistan
The Global Antiquities research group brings together Northwestern scholars who specialize in the study of the literatures, histories, and cultures of the ancient world, regardless of discipline or regional specialty. Our interests range from Mesopotamian art to Greek philosophy, from classical Latin poetry to Hindu Brahmin law, and from Tang dynasty China to Syriac and Coptic Christianity. The group (formed in the summer of 2017) gets together once or twice a quarter for colloquia, field trips, or invited talks. The group's goal is to enliven both the scholarship and the teaching of its members, and to offer a fresh and exciting take – interdisciplinary and global in essence – on antiquity more broadly, in order to make a significant contribution to the humanities within the university and beyond it.