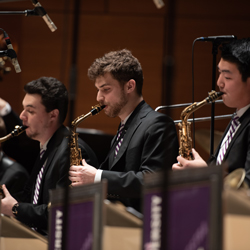 When: Tuesday, February 18, 2020
7:30 PM - 9:30 PM
Where: Patrick G. and Shirley W. Ryan Center for the Musical Arts, Galvin Recital Hall, 70 Arts Circle, Evanston, IL 60208 map it
Audience: Faculty/Staff - Student - Public - Post Docs/Docs - Graduate Students
Cost: Tickets are $6 for the general public and $4 for students with valid ID.

Contact: Concert Management Office 847.467.4000

Group: Bienen School of Music Concerts and Events
Category: Fine Arts
Description:
Darius Hampton, conductor 

The Count Basie Orchestra is undeniably the most swingin', blues-infused ensemble in the history of jazz. Throughout the Count's career, he and his band members performed music that defined the meaning of swing and the blues. Former Count Basie Orchestra member Thad Jones combined the blues with sophisticated orchestrations to create a new sound that is still uniquely identified with him today. This concert celebrates the blues and sophistication, two of the ingredients that make jazz a great American art form.
William "Count" Basie and Eddie Durham (trans. Myles Collins), "Jumpin' at the Woodside"
Frank Foster, "Blues in Hoss' Flat"
Kay Swift/Paul James (arr. Thad Jones), "Can't We Be Friends?"
Freddie Green (arr. Ernie Wilkins, trans. Myles Collins), "Corner Pocket"
Thad Jones, "To You"
Neal Hefti, "Whirly Bird"
Jerome Richardson (arr. Thad Jones), "Groove Merchant"
Sammy Nestico, "The Queen Bee"
Thad Jones, "Tiptoe"
Thad Jones, "Kids Are Pretty People"
Vernon Duke/Edgar "Yip" Harburg (arr. William "Wild Bill" Davis, trans. Jeff Hest), "April in Paris"
Thad Jones, "Cherry Juice"