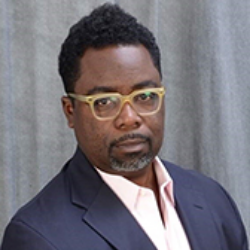 When: Thursday, December 5, 2019
12:30 PM - 1:30 PM Central
Where: Kresge Hall, Room 1-515 (The Forum), 1880 Campus Drive, Evanston, IL 60208 map it
Audience: Faculty/Staff - Student - Post Docs/Docs - Graduate Students
Contact: Linda Remaker 847.491.7980

Group: Latin American and Caribbean Studies
Category: Academic
Description:
Sherwin Bryant is Associate Professor of African American Studies and History at Northwestern. As an historian of colonial Afro-Latin America and the Atlantic/Pacific Worlds, Bryant works at the intersections of cultural, legal, social history and political economy, with an emphasis upon Black life in the Kingdoms of New Granada and Quito (what is now modern Colombia and Ecuador). With regard to comparative slavery studies, his work addresses the need to conceptualize early modern histories of slavery, freedom, and race as colonial practices of governance. Bryant's research expands the diasporic paradigm from the Atlantic to the Pacific by specializing in the history of the Afro-Andes and the development of "Black Pacific" subjectivities. He teaches courses on the histories of colonial Latin America, the Early Modern African Diaspora, comparative slavery, and the politics of Afro-Latin America since 1800.
His book Rivers of Gold, Lives of Bondage: Governing through Slavery in Colonial Quito (University of North Carolina Press, 2014) offers the first serious treatment in English of slavery and slave life in colonial Quito. By investigating just how and why slavery mattered in a colony that featured a relatively smaller slave population (no more than 15,000), the book challenges the narrower conceptualization of slavery as primarily an economic demand. Rivers of Gold argues that slavery performed a fundamental dimension of governance as an extension of imperial power for colonial Spanish America. This in-depth study of colonial Quito societal norms, economic practices, and legal cultures demonstrates that slave life's socio-political imprint occurred well before colonial authority's purely economic need for slave labor. Rivers of Gold discusses the physical act of royal branding to establish how the very bodies of the enslaved, and their circulation throughout the Andean world, worked to augment the spectacle of royal power and territorial control and expansion.
Dr. Bryant is currently working on two new book-length projects. The first charts the history of Black subjectivities along Colombia and Ecuador's Pacific littoral. The second develops a history of slave life within the contraband slave routes that ran through Panama and New Granada before the era of free trade. He interrogates these histories through legal sources with an eye towards colonial legal cultures and Black interiority, or the ways that Africans and their descendants crafted lives that were circumscribed within the racial order, yet lived to some degree without regard for the broader power matrix.