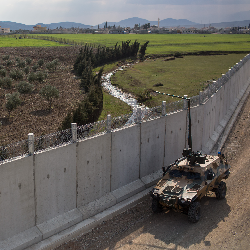 When: Monday, January 13, 2020
12:00 PM - 1:30 PM Central
Where: Kresge Hall, Room 1-515 (The Forum), 1880 Campus Drive, Evanston, IL 60208 map it
Audience: Faculty/Staff - Student - Public - Post Docs/Docs - Graduate Students
Cost: Free
Contact: Danny Postel

Group: Middle East and North African Studies
Category: Lectures & Meetings, Academic, Multicultural & Diversity, Global & Civic Engagement
Description:
The Kurds, a nation that most Americans had not heard of until 2014, have been in the headlines since Kurdish guerillas started fighting against ISIS. The Kurds, however, have been intimately aware of American strategic and military interests in the region since the Cold War. Erasing that history, now, Kurds are portrayed in the international media as the sworn enemies of Turks, and the US as caught in the middle of this timeless enmity, trying to keep both parties from clashing.
In this talk, Zeynep Oğuz and Deniz Duruiz, two anthropologists who have conducted long-term fieldwork in the Kurdish region of Turkey, will branch out from their ethnographic research and offer insights on the aspects of the "Kurdish Question" that are not covered in mainstream media discourse. They will also reflect upon ethnographic knowledge as expertise and ask: What can social science, or qualitative fieldwork, teach us about current political events?
Deniz Duruiz is the Keyman Modern Turkish Studies Postdoctoral Fellow at Northwestern. She received her PhD from Columbia University. For her doctoral dissertation (titled "Dispossession, Racialization, and Rural Kurdish Labor Migration in Turkey") she conducted ethnographic research with migrant workers from the Kurdish region of Turkey, both in their hometowns and at twelve different rural worksites in western Turkey. She is currently working on a book manuscript based on this research.
Zeynep Oğuz is the Mellon Postdoctoral Fellow in Environmental Humanities at Northwestern, with a joint appointment in the Department of Anthropology and the Kaplan Institute for the Humanities. She received her PhD in Cultural Anthropology from CUNY Graduate Center. She is currently working on a book project, which is a historical anthropology of oil and petroleum geology since the end of World War I to the present in the Kurdish region of Turkey.