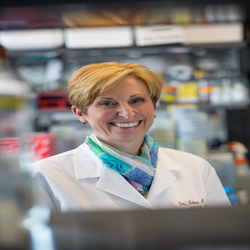 When: Tuesday, March 3, 2020
12:00 PM - 1:00 PM
Where: Robert H Lurie Medical Research Center, Searle Seminar Room, 303 E. Superior, Chicago, IL 60611 map it
Audience: Faculty/Staff - Post Docs/Docs - Graduate Students
Contact: Dr. Dean Procter 312.503.2996

Group: Department of Microbiology-Immunology Seminars/Events
Category: Lectures & Meetings
Description:
Title: Sex is a Biological Variable that Impacts Influenza Vaccine Efficacy
Speaker: Sabra Klein, PhD / Johns Hopkins
Host: Virology Graduate Students and Postdocs, Coordinator, Dean Procter, PhD
Topic:
Influenza is an ongoing threat to human health, despite the recommended annual vaccination. Among adults, females typically develop greater vaccine-induced immunity and protection than males, which is caused by sex differential epigenetic modifications in X-linked genes in B cells as well as sex steroid signaling. Furthermore, inactivated as well as universal influenza vaccine-induced immunity declines with age, but to a greater degree in females than males, which is associated with hormonal changes occurring during reproductive senescence. Taken together, both sex steroids and X-linked genes affect antibody production and results in sex-specific differences in the efficacy of vaccination against influenza.
This work was supported by the NIH/NIAID Center of Excellence in Influenza Research and Surveillance contract HHS N272201400007C and the NIH/ORWH/NIA Specialized Center of Research Excellence in Sex Differences U54AG062333.