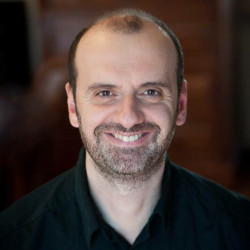 When: Wednesday, March 4, 2020
12:00 PM - 1:00 PM
Where: Ward Building, 5-230, 303 E. Chicago Avenue, Chicago, IL 60611 map it
Audience: Faculty/Staff - Student - Post Docs/Docs - Graduate Students
Contact: Vanessa Gonzalez 312.503.7959

Group: Department of Cell and Developmental Biology
Category: Lectures & Meetings
Description:
 
CDB SEMINAR PRESENTATION:
Mechanisms of Blood-Brain Barrier Development, Breakdown and Repair in the CNS
Dritan Agalliu, Ph.D.
Assistant Professor
Departments of Neurology, Pathology and Cell Biology, 
Columbia University Irving Medical Center
Wednesday, March 4, 2020
12:00 – 1:00 p.m.
Ward 5-230, PHYSIOLOGY CONFERENCE ROOM
303 E. Chicago St
Chicago, Illinois
Coffee and cookies served promptly at 12:00pm
Abstract and References:
 
Brain endothelial cells form a paracellular and transcellular barrier to blood-borne solutes via tight junctions and scarce endocytotic vesicles. The blood-brain barrier (BBB) plays a pivotal role in the healthy and diseased central nervous system (CNS). BBB damage contributes to increased CNS influx of serum proteins and immune cells, leading to severe pathological and neurological deficits in both ischemic stroke and multiple sclerosis; yet the cell biological mechanisms of how the paracellular BBB dysfunction occurs in these neurological disorders are not very well understood. Dr. Agalliu will present the latest research studies from his laboratory that address the cell biological mechanisms of blood-brain barrier dysfunction in neurological diseases associated with neurovascular dysfunction such as ischemic stroke and multiple sclerosis.  In addition, he will discuss the mechanisms by which Wnt/beta-catenin signaling regulates BBB formation during CNS development and its potential role in BBB repair in neurological diseases. 
 
Knowland, D., Arac, A., Sekiguchi, K., Hsu, M., Lutz, S.E., Perrino, J., Steinberg, G.K., Barres, B.A., Nimmerjahn, A. & Agalliu, D. (2014). Stepwise recruitment of transcellular and paracellular pathways underlies blood-brain barrier breakdown in stroke. Neuron, 82, 603-617. PMCID: PMC4016169.
Lengfeld, J., Lutz, S.E., Smith, J.R., Diaconu, C.D., Cameron, S., Koffman S., Agalliu, I, Walsh, C. and Agalliu, D. (2017). Endothelial Wnt/beta-catenin signaling reduces immune cell infiltration in multiple sclerosis. Proc. Natl. Acad. Sci. USA. doi: 10.1073/pnas.1609905114. PMCID: PMC5320985.
Lutz, S.E., Smith, J.R., Kim, D.H., Ellefsen, K., Smith, I.F., Gandhi, S.P. and Agalliu, D. (2017). Caveolin-1 is required for Th1 cell infiltration but not tight junction remodeling at the blood-brain barrier in autoimmune neuroinflammation. Cell Reports 21(8):2104-2117. PMCID: PMC5728697.
Mazzoni, J., Smith, J.R., Shahriar, S., Cutforth, T., Ceja, B., and Agalliu, D. (2017). The Wnt inhibitor Apcdd1 coordinates vascular pruning and barrier maturation in retinal blood vessels. Neuron 96(5):1055-1069. PMCID: PMC5728434.
  
 
For more information please contact Vanessa Gonzalez, vanessa.g@northwestern.edu