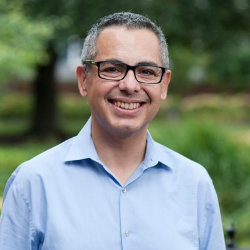 When: Wednesday, January 15, 2020
5:00 PM - 6:00 PM
Where: 2010 Sheridan Road, Room 201, Evanston, IL 60208 map it
Audience: Student
Cost: Free
Contact: Danny Postel

Group: International Studies
Category: Academic, Lectures & Meetings, Multicultural & Diversity, Global & Civic Engagement
Description:
Please join the International Studies Program for the first Global Café of the new decade — dinner and conversation with Héctor Carrillo, Professor of Sociology and Gender & Sexuality Studies at Northwestern.
Professor Carrillo is the author of two books: The Night Is Young: Sexuality in Mexico in the Time of AIDS (University of Chicago Press, 2002), and Pathways of Desire: The Sexual Migration of Mexican Gay Men (University of Chicago Press, 2017). His current research investigates the sexualities of straight-identified men who are sexually interested in both women and men, as part of a larger project on the paradoxes of sexual identity as a social construction.
He is a member of the governing board of the Latina and Latino Studies Program; a faculty associate in the Latin American and Caribbean Studies Program; a faculty affiliate in the Science and Human Culture Program; a faculty affiliate in the Center on Social Disparities and Health (C2S) at the Institute for Policy Research; a faculty affiliate in the Institute for Gender and Sexual Minority Health and Wellbeing; and a member of the Buffett Institute Faculty Advisory Council. He also serves as co-director of the Sexualities Project at Northwestern (SPAN), which promotes interdisciplinary research and education on sexuality and health in social context.
Carrillo serves as a member of the editorial boards of Sexuality Research and Social Policy and Sexualidad, Salud y Sociedad: Revista Latinoamericana. He is a past chair of the Sociology of Sexualities Section of the American Sociological Association, and he served as co-chair of the Social, Behavioral, and Economic Science track of the XVII International AIDS Conference. He also has a history of involvement in HIV/AIDS community based organizations.