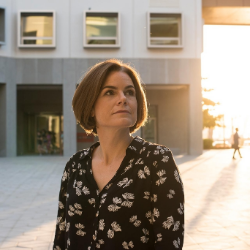 When: Monday, February 3, 2020
5:30 PM - 7:00 PM Central
Where: Community Meeting Room (ground floor), Evanston Public Library, 1703 Orrington Avenue, Evanston, IL 60201
Audience: Faculty/Staff - Student - Public - Post Docs/Docs - Graduate Students
Cost: Free of charge and open to the public
Contact: Danny Postel

Group: Middle East and North African Studies
Category: Lectures & Meetings, Academic, Multicultural & Diversity, Global & Civic Engagement
Description:
Please join the MENA Program and the Colloquium on Refugees, Migrants, and Statelessness at the Evanston Public Library for this talk by anthropologist Nathalie Peutz.
The conflict in Yemen has precipitated what many consider to be the world's worst humanitarian crisis. However, despite cholera epidemics, widespread hunger, and unprecedented displacement within Yemen, the numbers of Yemenis who have left the country to seek refugee status abroad are relatively low. Today, roughly 1,000 of these Yemeni refugees reside in Djibouti's Markazi camp, where they interact on a daily basis with Ethiopian migrants walking toward Yemen. This talk provides an overview of the current situation of Yemeni refugees in the Horn of Africa, analyzing a complex set of displacements in a geopolitically-sensitive region where "Arab" refugees are effectively held captive while "African" migrants are effectively abandoned. This case study illuminates some of the ramifications of the UN's new Global Compact on Refugees.
Nathalie Peutz is an anthropologist and Associate Professor of Arab Crossroads Studies at New York University Abu Dhabi. Her research focuses on forced migration, displacement and immobility, conservation and development, and identity and heritage in the Arab world and the Western Indian Ocean region. She is the author of Islands of Heritage: Conservation and Transformation in Yemen (Stanford University Press, 2018) and co-editor (with Nicholas De Genova) of The Deportation Regime: Sovereignty, Space, and the Freedom of Movement (Duke University Press, 2010). She is currently working on a book manuscript titled "Gate of Tears: Migration and Impasse in Yemen and the Horn of Africa," based on her ethnographic fieldwork with Yemeni migrant and refugee communities in the Horn of Africa. She is a member of the Princeton Institute for Advanced Studies (2019-2020).
This event is part of the MENA Monday Night series, a partnership between Northwestern's MENA Program and the Evanston Public Library aimed at expanding the public's understanding of the MENA region and fostering a forum for questions and dialogue.
It is free of charge and open to the public, but seating is limited so registration is required in order to guarantee a spot. Please register on the EPL website:
https://evanston.libnet.info/event/3924867