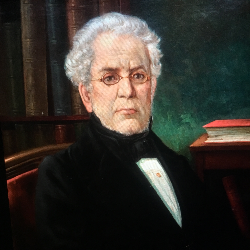 When: Tuesday, October 27, 2020
5:00 PM - 6:30 PM Central
Where: Online
Webcast Link
Audience: Faculty/Staff - Student - Public - Post Docs/Docs - Graduate Students
Cost: Free and open to the public
Contact: Danny Postel

Group: Latin American and Caribbean Studies
Category: Academic, Lectures & Meetings, Global & Civic Engagement
Description:
Please join us on Zoom for this lecture by historian Eric Van Young.
The Mexican statesman, entrepreneur, public intellectual, and historian Lucas Alamán (1792-1853) was one of the two most important political figures of the early Mexican Republic, the other his sometime ally and adversary, perennial president Antonio Lopez de Santa Anna. Alamán was a politically and socially conservative modernizer who struggled throughout his three-decade public and literary career with the questions of the legacy of decolonization, how much modernization was feasible for Mexico and how much was good for the country, and how political and social stability might be maintained in the face of economic development. At the end of his life he lamented the materialism he felt had overtaken Mexican society with the country's incipient industrialization and the opening to the Atlantic world brought by independence from Spain.
Eric Van Young is Distinguished Professor of History Emeritus at the University of California, San Diego, where he chaired his department and served as interim Dean of Arts and Humanities. He is the author or editor of some dozen books. His most recent major published work, The Other Rebellion: Popular Violence, Ideology, and the Struggle for Mexican Independence, 1810-1821 (Stanford University Press, 2001; Spanish version Fondo de Cultura Económica, 2006), won the Conference on Latin American History's Bolton-Johnson Prize in 2003. A collection of his essays, Writing Mexican History, appeared from Stanford University Press in 2012. His book A Life Together: Lucas Alamán and Mexico, 1792-1853 will be published by Yale University Press in 2021.
A current writing project is an interpretive/synthetic history of 18th-19th-century Mexico, Stormy Passage: Mexico from Colony to Republic (1750-1850) (under contract with Rowman and Littlefield). A Guggenheim Fellow in 2011-12, and winner of the Medalla 2008 awarded by the Gobierno del Distrito Federal, Mexico, for contributions to the historiography of Mexico, he is a Corresponding Member of both the Academia Mexicana de Ciencia and the Academia Mexicana de Historia. He was awarded the Distinguished Service Award of the Conference on Latin American History in 2018.
Register in advance for this meeting:
https://northwestern.zoom.us/meeting/register/tJcodeuurTstHN0AMTrrNnYifSMUgMARTSJl
After registering, you will receive a confirmation e-mail containing information about joining the meeting.