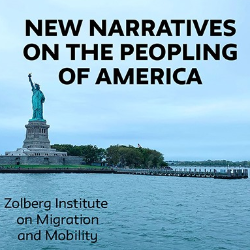 When: Monday, March 16, 2020
4:00 PM - 6:00 PM Central
Where: McCormick Foundation Center, Forum Auditorium, 1870 Campus Drive, Evanston, IL 60208 map it
Audience: Faculty/Staff - Student - Public - Post Docs/Docs - Graduate Students
Cost: FREE and open to the public!
Contact: Danny Postel (847) 467-1131

Group: WCCIAS
Category: Academic, Lectures & Meetings, Multicultural & Diversity, Global & Civic Engagement
Description:
The Center for International and Area Studies is pleased to bring New Narratives on the Peopling of America to Northwestern, in partnership with the Zolberg Institute on Migration and Mobility at the New School. Join historian Daniel Immerwahr and photographer Christopher Gregory-Rivera in discussion on the US territory identity in relation to mainland USA. The program will be moderated by Professor Mérida M. Rúa of the Latinx Studies Program at Northwestern.
The New American Narrative on the Peopling of America is a series of lectures and other public events with participants drawn from the academy, journalism, public affairs, and the arts. Stretching back more than three centuries, a debate on who constitutes the American people has engaged this nation. We are now in a time of particularly contentious discourse. We believe that there is an urgent need for a richer and better-informed discussion of the American past, present and future in order to construct a new narrative that can be true to enduring values of welcome, human dignity and equality.
Daniel Immerwahr is Associate Professor of History at Northwestern, specializing in 20th-century U.S. history within a global context. His first book, Thinking Small: The United States and the Lure of Community Development (2015), offers a critical account of grassroots development campaigns launched by the United States at home and abroad. His second book, How to Hide an Empire: A History of the Greater United States (2019), tells the history of the United States with its overseas territory included in the story.
Christopher Gregory-Rivera is a photographer who works extensively on various photographic projects in Puerto Rico and the Americas. His work examines the residue of power and colonialism. He is a founding member of Blackbox, a visual cooperative that merges the creative processes of photography and design to build immersive stories. He has lectured at the International Center of Photography in New York and in 2019 he was selected for the World Press Photo Foundation Joop Swart Masterclass.
Mérida M. Rúa is Assistant Professor in the Latinx Studies Program at Northwestern. Professor Rúa's research program bridges areas of inquiry — Latina and Latino studies, American studies, urban studies, and aging studies — typically segmented in the scholarly literature, social policy, and public discourse. She is the author of A Grounded Identidad: Making New Lives in Chicago's Puerto Rican Neighborhoods (2012) and is at work on two book projects.
This event is FREE and open to the public.
Please join us!