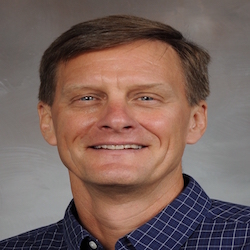 When: Tuesday, March 24, 2020
12:00 PM - 1:00 PM
Where: Simpson Querrey Biomedical Research Center, Simpson Querrey Auditorium, 303 E. Superior Street, Chicago, IL 60611 map it
Audience: Faculty/Staff - Post Docs/Docs - Graduate Students
Contact: Cynthia Naugles 312.503.0489

Group: Department of Microbiology-Immunology Seminars/Events
Category: Lectures & Meetings
Description:
Title: The Biological and Structural Diversity of Bacterial Type IV Secretion Systems
Speaker: Peter Christie, PhD, University of Texas, Houston
Host: Nicholas Cianciotto, PhD
Topic:
The bacterial type IV secretion systems (T4SSs) are a diverse superfamily of translocation machines capable of delivering DNA and protein substrates to bacterial and eukaryotic target cells.  We have used in situ cryoelectron tomography to solve the structures of three T4SSs - Legionella pneumophila Dot/Icm, Helicobacter pylori Cag, and E. coli F plasmid Tra - in the native context of the bacterial cell envelope.  Comparisons of these nanomachines offer new structural insights into how substrates engage with and are translocated across the donor envelope to target cells.  I will also summarize our recent mechanistic studies showing that the F plasmid-encoded T4SS translocates several F-encoded proteins to suppress mating-induced mutagenesis (MIM) in bacterial target cells.
More Info
Add to Calendar